THE WESTSIDE Canvas Print Tupac Wall Art 2pac Poster Hip Hop Artwork Music Room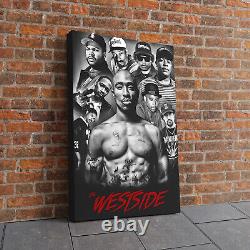 High Quality Canvas Art Print. Our range of high quality canvas prints are hand-stretched over 18mm and 38mm wooded frames. We use premium raw materials manufactured in the UK. You get nothing but the best, and that includes Solid Pine Bars and a 300gsm canvas.
We provide bespoke sized canvas prints created using only original Epson branded ink. Every canvas print arrives framed and ready to hang. No home construction is required.
We will be happy to reply to all your inquiries!