ROY LICHTENSTEIN Driving (1963) FRAMED & SIGNED VERY RARE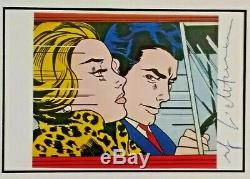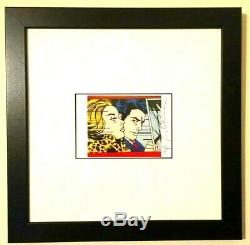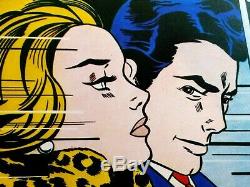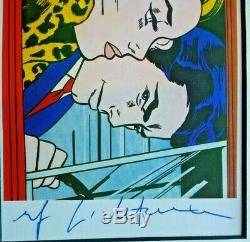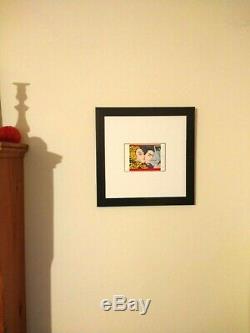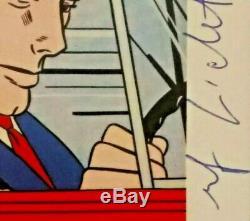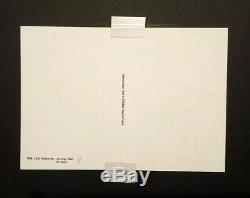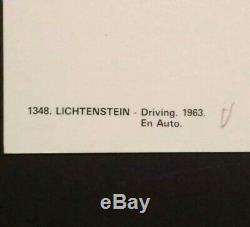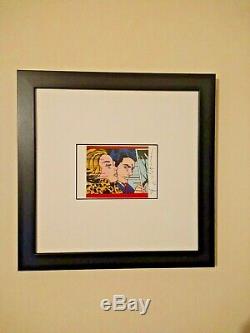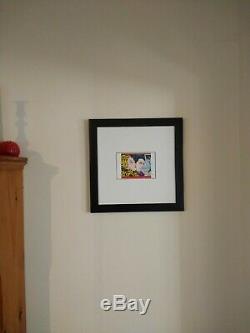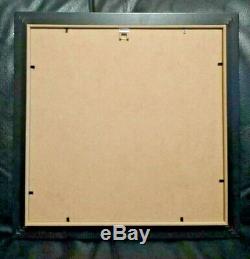 ROY LICHTENSTEIN - Driving (1963). FRAMED & SIGNED - VERY RARE. Signed by hand with a ballpoint pen by Roy Lichtenstein. Fine art postcard, sheet size approximately 15 x 10.5cm, with large frame approximately 34 x 34cm. Square wooden frame with bevel cut mount and glass.
This painting is one of a series from the early 1960s in which Lichtenstein deals with the theme of romance. He would paint his works on a monumental scale, much enlarged from his original source material of comic-strip illustrations. This work is based on an image from the comic Girls' Romances. The original illustration included a thought bubble which read,'I vowed to myself I would not miss my appointment That I would not go riding with him Yet before I knew it' His paintings present archetypal images of contemporary America, simultaneously glamorous, mundane, dramatic and impersonal. Lichtenstein conveys the essence of the time, depicting recognisable'types', such as the beautiful blonde woman and handsome, square-jawed man seen in this painting. In the early 1960s, Roy Lichtenstein began the series of comic-book paintings for which he is now best known. Using war and romance comics as his source, he translated images of love-torn young women and daring war heroes onto large-scale canvases that blaze with colour and energy. His appropriation of a cartoon-book graphic style and the banality of his choice of subjects was immediately controversial, and even critics sympathetic to the idea of Pop Art were suspicious of this apparent counterfeiting of commercial imagery. Lichtenstein himself, however, deliberately played on the contradiction between low and high art, finding irony and a certain wry humour in the elevation of mass culture into the realm of refined taste.
Lichtenstein was trained in drawing and painting but, like his contemporary Andy Warhol, he spent some of his early years working as a commercial artist. In New York in 1951, he showed paintings in what he later described as the abstract expressionist idiom. Later, he began to introduce cartoon characters such as Mickey Mouse and Donald Duck into his expressionist pictures. Eventually he abandoned painterly abstraction in favour of images drawn directly from everyday sources such as advertising, comic strips and product packaging. He developed a completely new style of primary colours, flat backgrounds and heavy black outlines.
The impact of his comic-book paintings depends in part on the precision of his technique and his mimicry of the ink dots and graphic effects of the cartoon style. An initial sketch of his source material was enlarged onto a canvas and then coloured in, often with the aid of a stencil to re-create the Ben-Day dots that characterise the mechanical printing process of the original comics. In the Car is among the most striking and memorable of his early comic-book pictures. It is based on a comic strip entitled Tomorrow and Tomorrow that appeared in the September 1961 issue of Girls Romances. The original strip carried a text showing the womans thoughts: I vowed to myself I would not miss my appointment That I would not go riding with him Yet before I knew it Lichtenstein omitted this thought-bubble from his picture, focusing instead on the close-up view of the handsome, square-jawed man who sneaks a glance at his pretty, blonde companion.
Wrapped in her leopard-skin coat, she remains aloof, staring straight ahead out the windscreen. Every aspect of the image is steeped in cliché, from the male/female stereotypes to the speeding car, the great symbol of American post-war culture. Yet despite its source in a ten-cent love comic, it is impossible not to get drawn into the boy-girl relationship at play here. He played down the importance of any narrative content and emphasised instead his search to create harmonious, unified compositions. Nevertheless his deadpan, impersonal style actually ends up heighten­ing the emotional intensity of his image, a paradox that Lichtenstein clearly enjoyed.
This text was originally published in 100 Masterpieces: National Galleries of Scotland, Edinburgh, 2015. Please look at my other items including rare modern and contemporary art and design pieces.
The item "ROY LICHTENSTEIN Driving (1963) FRAMED & SIGNED VERY RARE" is in sale since Wednesday, May 8, 2019. This item is in the category "Art\Art Prints". The seller is "ashbinx74" and is located in Bruton. This item can be shipped worldwide.
Artist: Roy Lichtenstein
Listed By: Dealer or Reseller
Features: Framed