Pre MONITOR B4 (Reduction) Fineart Print on Aluminum Dibond in Artbox Frame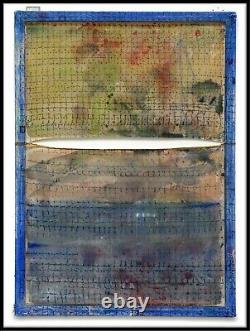 Aus der Serie "pre MONITOR". Giclée Print auf Fineart-Hahnemühle Papier. Gerahmt im schwarzen Artbox Rahmen.
40 x 30 cm (41 x 31 cm gerahmt). Signiert, datiert und numeriert vom Künstler: Arthur Kunz 2021. Weitere Werke dieser Serie finden Sie hier. "In einem achtmonatigem Malprozess während seines Aufenthalts im Wacker-Gastatelier hat ARTHUR KUNZ 2020/ 2021 an seinem monumentalen Bildwerk "Monitor gearbeitet.
KUNZ ist studierter Informatiker und war als solcher lange Zeit tätig , was sich nicht nur in der Wahl des Titels und des Motivs widerspiegelt, sondern auch in der künstlerischen Strategie und der Machart des entstandenen Werks. Einerseits geprägt von Mathematik, Logik und Physik ist ihm die Rationalität von Maschinensprache vertraut. Andererseits wendete er in der Zeit als Gastkünstler den Blick bewusst nach außen auf seine Umgebung und nahm nach eigenem Bekunden auch ganz anders gearteten Haltungen einiger Künstlerinnen in den Nachbar-Ateliers in den Fokus , um z. Deren Perspektive auf Alltägliches, die künstlerische n Konzeptionen , die Arbeitsprozesse oder auch deren Umgang mit Material als anregenden Impuls in seine Arbeit an "Monitor" einfließen zu lassen.
Quelle: Ausstellungskatalog MONITOR, 2021, Seite 4, Ralf Peters. " In an eight-month painting process during his stay in the Wacker guest studio, ARTHUR KUNZ worked on his monumental work "Monitor in 2020/2021. KUNZ is a trained computer scientist and worked as such for a long time, which is reflected not only in the choice of title and subject, but also in the artistic strategy and style of the resulting work.
On the one hand, shaped by mathematics, logic and physics, he is familiar with the rationality of machine language. On the other hand, during his time as a guest artist, he consciously turned his gaze outward to his surroundings and, according to his own admission, also focused on the very different attitudes of some artists in the neighboring studios, e.
Quelle: "Ausstellungskatalog MONITOR, 2021, Seite 4, Ralf Peters". Find more works from this series here. This item is in the category "Antiquitäten & Kunst\Kunst\Kunstdrucke".
The seller is "elektron78" and is located in this country: DE.
Höhe: 40 cm
Verkaufseinheit: Einzelwerk
Herstellungszeitraum: Ab 2020
Besonderheiten: Limitierte Auflage, Nummeriert
Künstler: Arthur Kunz
Signiert: Ja
Rahmung: Gerahmt
Motiv: abstrakt, Landschaft
Breite: 30 cm
Thema: Physik, Mathematik, Kunst
Material: Hahnemühle Fineart, Mattes Papier, Papier
Länge: 3 cm
Stil: Abstrakt, Art brut, Art déco, Avantgarde, Primitivismus, Zeitgenössische Kunst
Signiert von: Arthur Kunz
Herstellungsmethode: Giclée
Bildausrichtung: Porträt
Produktart: Print
Echtheitszertifikat: Ja
Anzahl der Einheiten: 1
Echtheitszertifikat ausgestellt von: Arthur Kunz
Titel: B4 (Reduktion)
Handgefertigt: Ja
Herstellungsland und -region: Deutschland
Größe: Klein
Herstellungsjahr: 2021
Original/Lizenzierter Nachdruck: Original