Operation Market Garden James Dietz 101st AB Band of Brothers Autographed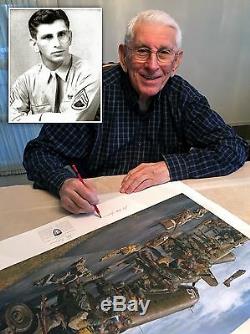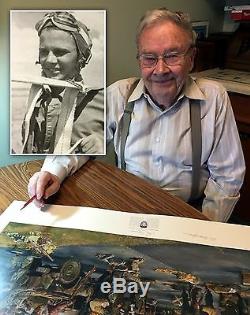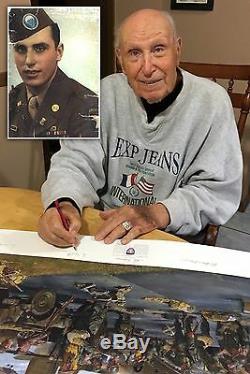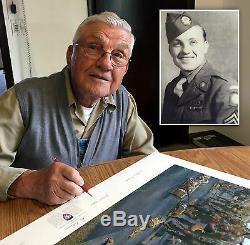 September 17, 1944 - Membury Airfield. A fine art print by James Dietz. All across England, they prepare to jump. The Screaming Eagles, the All-American boys, the British Red Devils, soon the troop carrier transports will whisk them away for World War IIs largest airborne invasion to date: Operation Market Garden, a surprise jump to secure vital bridges and roadways in Holland. Among these units is Easy Company, 506th PIR, seen here. On this morning, the companys veterans give the new replacements a helping hand. Checking harnesses, uttering encouragements, the veterans bravado will settle the rookies nerves. Someday, when the new guys look back, theyll understand: its just another day in a company of heroes.
Only 190 prints , signed and numbered by James Dietz & 4 Market Garden veterans : - E-Co. Medic Al Mampre, depicted in "The Veterans" - 1st time signers, C-47 pilot Don Shady more signer info below! And 82nd glider trooper Richard Rohleder - 101st Airborne icon Lou Venditti more signer info below!
INCLUDES: Color COA with "History Behind the Art" story. Photo one: Image of the Main Edition art print- signature placements and size will vary from print to print due to the nature of each print being personally handled and signed by the veterans. Photo two: Signer Al Mampre taken in May of 2016 Photo three: 101st Airborne signer Lou Venditti taken in May of 2016. Photo four: C-47 pilot Don Shady taken in May of 2016. It was a lifetime ago, but Louis Venditti has never forgotten how time stretched out as his 137-pound frame hung from a parachute over the French countryside, German guns blazing below.
Venditti, 87, was part of the advance wave of paratroopers airlifted into France to prepare the way for the D-Day assault on Normandy Beach in 1944. He survived four major battles, came home with a chest full of medals -- including the Purple Heart and Belgian Croix de Guerre -- and joined the Chicago Heights Fire Department, retiring in 1979 after three decades of working two jobs (days off he worked as a roofer).
Receiving the honor will be an amazing moment for an Italian kid who grew up in a Chicago Heights neighborhood called Hungry Hill, where his family kept goats. Market Garden & Bastogne C-47 pilot. Born in Idiana, Don attended college as a pre-med student before joing the air corps to do his part in WWII. For him it was a chance to be up in the air where it was clean.
In January 1944, he became a pilot assigned to the 78th Troop Carrier Squadron, 435th Troop Carrier group and joined the unit at their base in Welford Park, England. Don piloted his C-47 on September 17, 1944, dropping the 502nd PIR, 101st Airborne during Market Garden. He remembers the paratroopers that morning: They were so loaded down with equipment that they needed help getting off the ground! Over his drop zone, Don's earphones suddenly went silent as his plane was hit by small arms fire. He saw that the radio wire had been clipped by a bullet but the worst damage he couldn't see.
Upon landing in England, he discovered that they had been hit in their fuel tank, which caused a leak running along the lower side of the fuselage. Don attributes the slip stream from keeping their fuel from running out and feels it was a miracle they didn't go up in flames from the damage. After Market Garden, Don went on to drop supplies to the 101st Airborne, surrounded at Bastogne, several times in December 1944.
He left the service in 1945 and worked for an agriculture company for 38 years until retirement. By sheer numbers, Operation Market-Garden was staggering. From 22 airbases across England, the First Allied Airborne Army prepared to board 1,500 aircraft that would carry them into occupied Holland. By its completion, 41,000 airborne troops would come to earth on Dutch soil.
So where's the artwork commemorating this, the largest airborne operation in world history? Few artists have dared to take-on the size and scope of such a paintinguntil now. We're thrilled to present The Veterans, from the brilliant brush strokes of James Dietz, the worlds foremost combat artist! Set on the damp tarmac of RAF Membury on the morning of September 17, 1944, this snapshot of history features a staggering 27 figures, 5 aircraft, 2 jeeps, and the heroes the world has come to revere: The Band of Brothers. Here we see their leader, Dick Winters beside the jeep, speaking with 2nd Battalion staff, including Herbet Sobel.
Winters has come a long way since D-Day; he's now Easys beloved company commander. Its veterans like Winters, whose manner steadies the new replacements' nerves. And there are plenty of new faces here, as the 506th Regiment has had to replace the more than 400 paratroopers killed or missing in Normandy and many more wounded. Bull Randleman chomps a cigar as he checks the harness of one such replacement, James Miller. Miller would be killed in action three days later, one of six Easy Company men to give their lives in the campaign.
Squad leader Johnny Martin lays reassures medic, Al Mampre. Al missed D-Day due to a severe infection but hell soon distinguish himself on the road to Eindhoven by charging into the line of fire to treat Lt. Brewer, shot through the neck by a sniper.
The same sniper would shoot Al through the calfbut not before Al would save Brewer's life. David Webster helps Don Hoobler shoulder his parachute. For men like Webster, wounded in Normandy, this jump offers the chance to settle old scores. I owe the Germans several bullets and as many hand grenades as I can throw, he would boast.
The uniforms of these trooper are different from their D-Day attire; they wear the new, M-1943 green fatigues, complete with an American flag on the sleeve. Gone from their helmet nets are the canvas strips and in their place are first aid kits, tied to the netting for quick access. Even C-47s have changed; since Normandy, the tops of their black and white D-Day invasion stripes have been removed.
Two planes leap into the sky for a readiness check flight, while the others await their human cargo. These 81st Squadron C-47s will survive, although two planes from their sister squadron, the 79th Squadron, will be among the sixteen C-47s lost that day.
In tribute to these brave aircrew, Jim Dietz painted them loading-up as a pilot reviews last-minute details. The C-47 Buzz Buggey, which will drop Sgt. Carwood Lipton and the men of Chalk 75. Today, a C-47 flies wearing these markings. Its our hope that this painting will provide endless viewing pleasure and an everlasting tribute to the these Angels from Above, the more than 14,000 American paratroopers who jumped in Market-Garden.
Print Size: 31" x 19". Screen colors may vary from print colors. Autographed art and collectibles from Valor Studios are created with the full cooperation of the veteran signers who are compensated fairly for signing each item. DO YOU CARRY OTHER ARTISTS? We have published prints with John D.
Shaw, Gil Cohen, William S. For other, stunning military artwork, just ask! The item "Operation Market Garden James Dietz 101st AB Band of Brothers Autographed" is in sale since Friday, November 11, 2016. This item is in the category "Art\Art Prints". The seller is "valorstudiosinc" and is located in Broomfield, Colorado. This item can be shipped worldwide.
Edition Size: 190
Print Type: Lithograph
Size Type/Largest Dimension: Large (Greater than 30")
Listed By: Publisher
Subject: Military & Political
Original/Reproduction: Artwork Reproduction
Signed: Signed
Edition Type: Limited Edition