NORMAN ROCKWELL Canvas Print Autograph, Signed ROSA PARKS, Frame, DVD, COA, UACC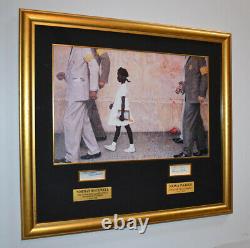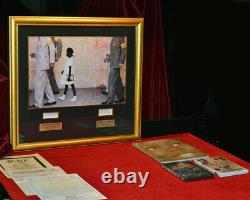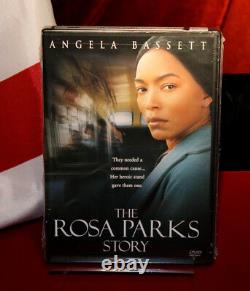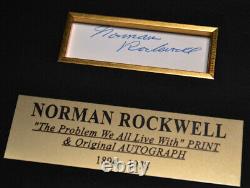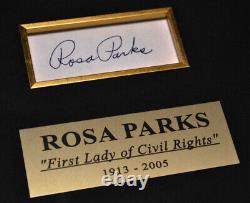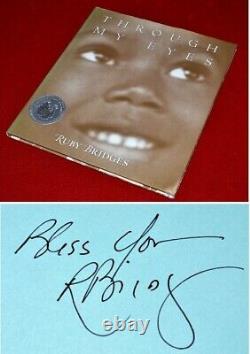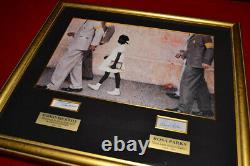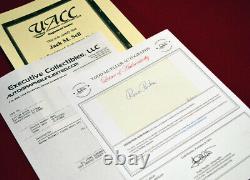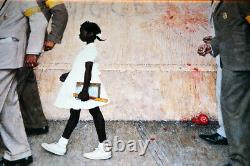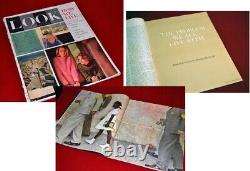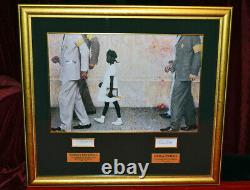 This ONE OF A KIND Civil Rights Collection includes. Original Fine Art Print on CANVAS entitled "The Problem We All Live With". ROSA PARKS Autograph with original Certificate Of Authenticity (COA). NORMAN ROCKWELL Autograph with original Certificate Of Authenticity (COA). RUBY BRIDGES Autographed BOOK with original Certificate of Authenticity (COA). Professionally FRAMED under UV Glass in large Museum FRAME. 2 new DVD's of the motion pictures, "The Rosa Parks Story" & "Ruby Bridge's Story".
An original 1964 LOOK Magazine with the painting inside with the story of "Ruby". "The Problem We All Live With, " a print on CANVAS by NORMAN ROCKWELL... Matted with 2 Autographs by NORMAN ROCKWELL & ROSA PARKS.. A "Great Civil Rights Movement" EXHIBIT - a RARE Collection from famous American History. A Beautiful Art Print on Canvas with matted NORMAN ROCKWELL & ROSA PARKS original SIGNATURES...
It's very RARE to find these famous Autographs! This collection also includes this beautiful hardback BOOK entitled "Through My Eyes" signed & inscribed by RUBY BRIDGES, the little girl that bravely went into that New Orleans School and the subject for the famous Rockwell painting..
This famous ART & AUTOGRAPHS are Museum matted in a beautiful modern gold Frame under UV Acrylite Glass. This beautiful Civil Rights Exhibit comes ready to hang in your Home, Office or Museum. ROSA PARKS & NORMAN ROCKWELL original signatures are in overall good condition and Guaranteed Original with an Original Certificate of Authenticity... The original Art Print on Canvas is in near mint condition... This entire COLLECTION is guaranteed genuine for life by UACC Registered Dealer #228. Double matted in a beautiful custom museum quality Gold Frame & Gold Fillets with engraved description PLAQUES. The special edition Framed Large Art Measures overall 24" X 22" and was professionally framed using all acid free materials.. Included in this Collection is a factory sealed Motion Picture on DVD entitled "The Rosa Parks Story, " starring ANGELA BASSETT. You also receive this new 1st edition BOOK signed & inscribed by RUBY BRIDGES, the little girl who Norman Rockwell painted.. Finally, you receive this factory sealed Motion Picture on DVD entitled Disney's RUBY BRIDGES. You also receive the original 1964 LOOK MAGAZINE with the original ART printed inside..
This is a real "ONE OF A KIND" Civil Rights COLLECTION.. Norman Rockwell began his career as an artist as an illustrator. He studied at the Art Students League and received his first freelance assignment at 17. From 1916 to 1963, he produced 317 covers for The Saturday Evening Post.
Most of his works are humorous treatments of idealized small-town and family life. During World War II, posters of his Four Freedoms were distributed by the Office of War Information. Though loved by the public, Rockwell's work was often dismissed by critics. Late in his career, he turned to more serious subjects i. A series on racism for Look magazine and began to receive more serious attention, and in the 1990's, his critical reputation enjoyed a positive reassessment.
Rockwell's art has been reproduced more often than all of Michelangelo's, Rembrandt's and Picasso's put together. In 1993, a new Rockwell museum was opened just outside of Stockbridge.
Museum director Laurie Norton Moffatt cataloged his art in a two-volume book, wrote Landrum Bolling of the Saturday Evening Post, and listed over 4,000 original works. Throughout his life, Rockwell followed the motto: Don't worry; just work. NORMAN ROCKWELL painted many scenes of Americana, from sports to famous figures to social problems in our country... He was a prolific painter and many of his scenes would grace the cover of POST MAGAZINE.
A Beautiful ART print on Canvas with separate Original NORMAN ROCKWELL SIGNATURE & description PLAQUE.. Rosa Parks was an African-American civil rights activist, whom the United States Congress called "the first lady of civil rights" and "the mother of the freedom movement". Her birthday, February 4, and the day she was arrested, December 1, have both become Rosa Parks Day, commemorated in both California and Ohio.
On December 1, 1955, in Montgomery, Alabama, Parks refused to obey bus driver James F. Blake's order that she give up her seat in the colored section to a white passenger, after the white section was filled. Parks was not the first person to resist bus segregation. Parks' act of defiance and the Montgomery Bus Boycott became important symbols of the modern Civil Rights Movement. She became an international icon of resistance to racial segregation. She organized and collaborated with civil rights leaders, including Edgar Nixon, president of the local chapter of the NAACP; and Martin Luther King, Jr. A new minister in town who gained national prominence in the civil rights movement.
At the time, Parks was secretary of the Montgomery chapter of the NAACP. She had recently attended the Highlander Folk School, a Tennessee center for training activists for workers' rights and racial equality. She acted as a private citizen "tired of giving in".
Although widely honored in later years, she also suffered for her act; she was fired from her job as a seamstress in a local department store. Eventually, she moved to Detroit, where she briefly found similar work. From 1965 to 1988 she served as secretary and receptionist to John Conyers, an African-American U. After retirement, Parks wrote her autobiography and lived a largely private life in Detroit. In her final years, she suffered from dementia.
Parks received national recognition, including the NAACP's 1979 Spingarn Medal, the Presidential Medal of Freedom, the Congressional Gold Medal, and a posthumous statue in the United States Capitol's National Statuary Hall. Upon her death in 2005, she was the first woman and second non-U. Government official to lie in honor at the Capitol Rotunda. ROSA PARK's Rare original SIGNATURE is framed & mounted to the Display with a Brass Engraved Description PLAQUE.. A Beautiful original NORMAN ROCKWELL print on Canvas and Original Autographs by ROSA PARKS & NORMAN ROCKWELL.
"The Problem We All Live With". Rockwell's painting focuses on an historic 1960 school integration episode when six year-old Ruby Bridges had to be escorted by federal marshals past jeering mobs to insure her safe enrollment at the William Frantz Elementary School in New Orleans. Ruby was the first African American child to enroll at the school, and the local white community - as elsewhere in the country at that time - was fiercely opposed to the court-ordered desegregation of public schools then occurring. Rockwell's rendering focuses on the little girl in her immaculate white dress, carrying her ruler and copy book, as the four U.
The painting also captures some of the contempt of those times with the scrawled racial epithet on the wall and the red splattering of a recently thrown tomato. Norman Rockwell at work, mid-career. Rockwell's portrayal first appeared to wide public notice in January 1964 when it ran as a two-page centerfold illustration on the inside pages of. The painting ran as an untitled illustration in the middle of.
Feature story on how Americans live, describing their homes and communities. The context of the Ruby Bridges scene rendered by Rockwell had been heavily reported in print and on television in November 1960, with the anger of the mobs that day burnished deeply in the public mind. Magazine readers viewing Rockwell's piece in 1964 would likely recall the unhappy context of young school children being heckled and needing federal protection.
In 2011, President Obama had a hand in bringing Rockwells original painting to the White House, as did others, according to the. Including Ruby Bridges herself, the Norman Rockwell Museum which owns the painting, Rep. John Lewis (D-GA), and U. Some quiet lobbying helped bring the painting to the White House, suggesting it be displayed there at the 50th anniversary of Ruby Bridges admission to the Frantz school.
The President likes pictures that tells a story and this painting fits that bill explained a statement in the White House blog. In 1963 Rockwell confronted the issue of prejudice head-on... However, at the time of the painting's White House display, some reporting had erroneously stated the Rockwell piece had initially appeared on the cover of the January 14th, 1964.
That is a forgivable mistake given the fact that so much of Norman Rockwell's work frequently did appear on magazine covers, most notably at the. But the error raises an important question, nonetheless. Why didn't the Rockwell painting of the famous civil rights incident run on the cover of.
Magazine or some other magazine? Once it was revealed which schools in New Orleans were the ones chosen for the court-ordered integration, sidewalk protests ensued and white parents promptly removed their children from those schools. However, at Ruby Bridges school - the William Frantz school there were also two white parents who chose to keep their children in the school: a Christian minister's five-year old daughter, Pamela Foreman, in kindergarten, and another white child, Yolanda Gabrielle, age six. In addition to the jeering of Ruby, these white kids and their parents were also jeered and harassed, even beyond the school grounds. Neighbor turned against neighbor and it got pretty ugly in those communities.
Rockwell, no doubt knew about all of this and likely read news accounts of the protests. One youth chanted Two, Four, Six, Eight, we don't want to integrate. Marshals arrived with Ruby and her mother, they walked hurriedly up the steps to the schools entrance as onlookers jeered and shouted taunts.
On the sidewalk that day, assembled mothers and school students were yelling at police, some carrying signs, one held by a young boy that said, All I Want For Christmas is a Clean White School. Another placard that day read: Save Segregation, Vote States Rights Pledged Electors. The white parents kept up their boycott of the schools the entire year, and the protests and jeering continued periodically. On December 2nd, 1960, for example, housewives demonstrated at the William Frantz school, one standing with a placard that read Integration is a Mortal Sin, citing a biblical scribe as source.
Rockwell's painting, of course, does not capture all of this, nor was it intended to. His focus appears to be solely on the girl, placed at center, giving no special notice to the marshals, other than they were needed, as he portrays them as anonymous and headless, from mid-torso down. The setting around the little girl is ugly and threatening, but she is innocent and perfect, as her white dress and ribbon-tied hair suggest.
As far as she is concerned, she is just going to school. Travels with Charley: In Search of America. Charley was Steinbeck's dog and traveling companion during his road trip around the United States. Was published by Viking Press in the mid-summer of 1962, reaching No.
In part four of that book, Steinbeck recorded his reactions on coming to the New Orleans communities where the school integration controversy had flared, and he came away gravely saddened by what he saw. The show opened on time. Then two big black cars filled with big men in blond felt hats pulled up in front of the school. The crowd seemed to hold its breath. Four big marshals got out of each car and from somewhere in the automobiles they extracted the littlest Negro girl you ever saw, dressed in starchy white, with new white shoes on feet so little they were almost round.
Her face and little legs were very black against the white. The little girl did not look back at the howling crowd but from the size the whites of her eyes showed like those of a frightened fawn. The men turned her around like a doll, and then the strange procession moved up the broad walk toward the school, and the child was even more a mite because the men were so big Steinbeck had come to New Orleans in part to see the cheerleaders, as he called those then protesting New Orleans school integration, and he describes what he found first hand, as he witnessed some of the protests.
No newspaper had printed the words these women shouted. It was indicated that they were indelicate, some even said obscene. But now I heard the words, bestial and filthy and degenerate. In a long and unprotected life I have seen and heard the vomitings of demoniac humans before. Why then did these screams fill me with a shocked and sickened sorrow?
Steinbeck wrote that he knew something was wrong and distorted and out of drawing in what he had seen in New Orleans. He had formerly counted himself as a friend of New Orleans; knew the city fairly well, had his favorite haunts there, and also had many treasured friends there - thoughtful, gentle people, with a tradition of kindness and courtesy. Where were they now, he wondered - the ones whose arms would ache to gather up a small, scared, black mite?
Answering his own question, he wrote: I don't know where they were. Perhaps they felt as helpless as I did, but they left New Orleans misrepresented to the world. The crowd, no doubt, rushed home to see themselves on television, and what they saw went out all over the world, unchallenged by the other things I know are there.
Another influence on Rockwell at this time was likely Erik Erikson, a psychoanalyst at the Riggs Center in Stockbridge, Massachusetts where Rockwell then lived and worked. Erikson treated Rockwell occasionally for bouts of depression, was Rockwells friend, and also had a passion for civil rights. Erikson was a colleague and mentor to a younger child psychiatrist named Robert Coles, who had begun working with Ruby Bridges and other children in the early school desegregation cases in 1961. Coles had found that segregation had damaged the self-esteem of the little girls, and by 1963 he had written a series of articles beginning in March for.
Magazine profiling Ruby Bridges experiences during integration of the Frantz school. The Desegregation of Southern Schools: A Psychiatric Study. Erikson may well have made Rockwell aware of these at the time he was painting. The Problem We All Live With.
It appears Rockwell began working on the Ruby Bridges painting sometime in 1963, also finishing it that year. Decided to use it in their January 14th, 1964 edition. On the cover of that issue, a portion of which is shown at right. Featured photos of American homes in various urban and suburban settings, along with a few family shots, billing its cover story as: How We Live: Up in the city, Down on the farm, Out in the suburbs. In homes packed with pride, prejudice and love.
There was no special mention or billing of Norman Rockwell's painting on the cover. The illustration would be found in the middle of the magazine as a full two-page spread with no accompanying text.
In the table of contents it was billed under art with the title The Problem We All Live With. " It appeared amidst a series of articles with titles such as: "Their First Home, Down On The Farm, and Their Dream House Is On Wheels. One of the stories focused on Theodore and Beverly Mason, a black family living in a mixed community in Ludlow, Ohio.
Rockwell's former Saturday Evening Post fans, coming upon this painting in Look, may have been quite surprised. In fact, the painting did elicit reaction from Look's readers, as the magazine received letters from those who were deeply moved by it, as well as those who were angered by it. Some analysts would later note that precisely because Rockwell was an artist dear to the hearts of many conservatives for his renderings of Americana and American values, that his new work on civil rights subjects may have made some of these same fans think twice about America's racial problem at that time, helping them face up to racism. Rockwell himself would later say of his change in subject matter: For 47 years, I portrayed the best of all possible worlds - grandfathers, puppy dogs - things like that. That kind of stuff is dead now, and I think it's about time.
Rockwell appears to have been quite comfortable with what he offered in the Ruby Bridges painting. In fact, in a letter he later wrote to the NAACP, Rockwell offered the illustration to the civil rights group, suggesting they reproduce the illustration as a poster to publicize their progress and accomplishments.
It is not known here what the NAACP made of this offer, or if the illustration was ever used as Rockwell suggested. Rockwell, in any case, had more work to come on civil rights issues; work that would also be published by Look magazine, two of which are explored below.
Apart from Rockwell's work, Look also published cover stories on civil rights issues in that period. On March 23, 1965 the magazine featured The Negro Now story by Robert Penn Warren on its cover, describing its content with a series of questions, also on the cover: How far has the Negro come? What is the South ready to concede? What happens next in the North? Can we move forward without violence? And Who speaks for the Negro now? In June 2011 at the White House, Norman Rockwell's 1963 painting, The Problem We All Live With, depicting a famous school desegregation scene in New Orleans, began a period of prominent public display with the support of President Obama.
The White House exhibition of Rockwells piece, which ran most of 2011, drew national attention to an iconic moment in Americas troubled civil rights history. Framed & Ready to Hang on the wall of your Home, Office or Museum..
I hope this helps you make a good investment. Hello Jack, our Gorman has already arrived and is hanging on a brand new wall.
She is perfectly beautiful and the frame is perfect for my room. Let's keep in touch. Thanks for your ideas and emails.
NORMAN ROCKWELL is considered by many critics to be one of the best Artists of the 20th century. This ART and AUTOGRAPH should be a Great Investment! This beautiful art is museum framed with a rare Rosa Park & Norman Rockwell ORIGINAL Signatures....
Just ready to hang and enjoy. Check out our other auctions for great Art, Memorabilia, Movie Props & Autographs...
Sell is a Registered Dealer with the U. We are proud that some of our memorabilia is on display in the SMITHSONIAN in Washington, D. Heimdell51 Praise: Great guy; very prompt & efficient service & exc. Packaging; got a free bonus too!
Austinpowheinybeer Praise: GREAT GREAT GREAT!! Toothfella Thanks for the super helmet Jack! Hope to do business again.
Jimsoden Praise: Great packing, good emails, very generous with his time and effort, class act!!! Circus10 Praise: Fabulous costume, vintage RBBB. Belfast Praise: Wonderful Ebayer & with genuine COA's too! This is a Rare, One of a Kind Original Fine Art Canvas Print entitled "The Problem We All Live With, " ROSA PARKS & NORMAN ROCKWELL Autograph with original Certificates Of Authenticity (COA). RUBY BRIDGES Autographed BOOK with original COA.
2 new DVD's of the motion pictures, "The Rosa Parks Story" & "Ruby Bridge's Story" and. All signatures are guaranteed genuine for life by UACC Registered Dealer #228.. You also receive an original copy of the 1964 LOOK Magazine.
The photos in this ad also make up part of this ad description. A GREAT piece of ART & AUTOGRAPH that you will rarely find in the marketplace.. A GREAT INVESTMENT for Art Collectors! Artwork, Autographs & Props are becoming one of the fastest growing assets in the world..... A real "One of a Kind" FIND and conversation piece! Check out our other auctions for more great items, including more Art, Props, Autographs, Costumes & More!
If this autograph is declared not to be authentic, we may ask the purchaser to supply the full written opinion of one competent authority acceptable to us. WE ALSO OFFER A 3 MONTH LAYAWAY PLAN WHERE YOU CAN MAKE 3 EQUAL MONTHLY PAYMENTS TO US & WE DON'T CHARGE ANY INTEREST.... A Beautiful ROSA PARKS & NORMAN ROCKWELL "Civil Rights Movement" Framed Display! The item "NORMAN ROCKWELL Canvas Print Autograph, Signed ROSA PARKS, Frame, DVD, COA, UACC" is in sale since Thursday, February 20, 2020. This item is in the category "Art\Art Prints".
The seller is "jackmsell" and is located in New Port Richey, Florida. This item can be shipped worldwide.
Size: Medium (up to 36in.)
Artist: NORMAN ROCKWELL
Style: Americana
Listed By: Dealer or Reseller
Original/Reproduction: Artwork Reproduction
Medium: Serigraph & Silkscreen
Signed: Signed
Date of Creation: 1950-1969
Print Type: SerioLithograph
Size Type/Largest Dimension: 24" x 22"
Signed? : Signed
Framed/Unframed: Matted & Framed
Year: 1963
Features: Framed
Subject: Landscape
Originality: Reprint