Matt Hall DDay Art Print Signed by 101st AB, 82nd AB and C-47 pilot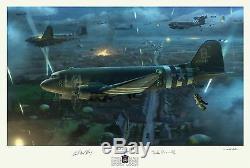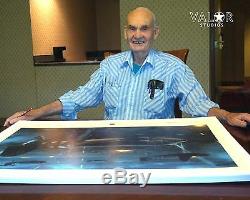 A fine art print by Matt Hall. June 6, 1944, soon after 1:00 a. Across Normandy charge the C-47s of IX Troop Carrier Command and their fighting cargo, the paratroopers of the 101st and 82nd Airborne Divisions. They have come to liberate the oppressed.
Braving walls of clouds, German flak, and with just the moon to shine their path, the pilots toggle the green light over French fields and villages like Sainte-Mère-Église, a sign to the paratroopersGo! With church bells ringing below and the prayers of the world behind them, the boys of the 101st and 82nd Divisions brush fear aside and jump into the night.
Only 500 prints , signed and numbered by artist Matt Hall & 2 D-Day veterans. Now issuing: - Band of Brothers veteran Earl McClung! (Photo above) - 4 jump 82nd paratrooper Duke Boswell (more on Duke below)!
-Fred Trenck D-Day C-47 pilot. ALSO INCLUDES: Color COA with "History Behind the Art" story. Henry Duke Boswell enlisted in the NC Army National Guard at the age of 16. In June, 1942 he volunteered for the paratroopers and was assigned to G Company, 505th PIR, 82nd Airborne Division.
On July 10, 1943 Sergeant Boswell saw his first combat during the jump into Sicily. A few months later he would parachute into Salerno, Italy and help liberate Naples in October 1943. During the invasion of Normandy, Boswell parachuted into Ste.
Mere Eglise (depicted in the film The Longest Day) which would become the first town liberated from the Germans. Following combat in Normandy, Boswell would jump into Holland during Operation Market Garden and later fight in the Battle of the Bulge until January 1945. By the wars end, of the original 146 men of G-Company, only 13 remained (including Boswell), who were not wounded or killed. Boswell was discharged from the Army in 1945 but later reenlisted in 1946.
After becoming an officer, he was assigned to the First Calvary Division in combat in Korea. There, he fought in the breakout from the Pusan Perimeter until he was severely wounded by mortar fire. After recovering from his injuries, Boswell would remain in the Army until his retirement as a Major.
"Wild Bill" Guarnere falls into the chaos over Normandy. He recalled this moment in his memoir: We started getting a lot of flack, the anti-aircraft fire was horrendous.
We got the order to jump even though the plane was moving too fast. After I jumped my leg bag fell off, and my leg woke up real fast.
Approximately 70% of the parachutes used on D-Day were cammo chutes, the others were white. To this day, Norman farmers still discover chutes buried or hidden on their properties.
According to Paul Woodadge, There was cloud cover and, indeed, fog over much of the Cotentin Peninsula on D-Day night. Because of the fire in Ste.
Mere Eglise, the heat had burned off the fog there. Residents describe a pale moonlight over the square that night. There were at least two 20mm Flak 38 guns within Ste. Mere Eglise, manned by Austrians. C-47 Pilot Ben Kendig remembered the German tracers would weave as if spouted from a hose.
Forrest Guth recalled their sound, you could see them (AA tracers) hitting the planes and you could hear when they hit with a'pling'. This 91st Squadron C-47, flown by Lt. Dick Winters and his paratroopers of stick #67.
Sammons remembered the drop: I pulled the left engine back all the way to where it was at full idle so that they (paratroopers) wouldn't get a hell of a prop blast when the stick jumped. We were at 400 feet. The "Holy Mother Church" sits at the center of Ste. Approximately 45 minutes after the moment depicted in "Into the Night, " paratroopers of the 82nd Airborne's 505th Regiment will parachute into the town. One of those troopers, Pvt.
John Steele, will be snagged on the church's spire and hang for two hours playing dead, before being captured. To this day, a dummy hangs on the church in tribute. As I lay in a field at the edge of Ste. Mere-Eglise, I could hear the church bell tolling in the night, summoning local citizens to fight a fire that had broken out on the edge of town. Dick Winters, E-Co, 506th PIR, 101st ABN.
This mortally wounded C-47 is flown by Lt. Harold Capelluto and contains E-Company's HQ Section and commander, Lt. Pilot Frank Deflita, flying near Capelluto, remembered:... Harold's plane got hit several times...
The plane left the formation and slowly initiated a right turn. I followed it with my eyes and noticed its landing lights coming on. I thought it was going to be all right.
Then, suddenly, it came crashing down into a hedgerow and instantly exploded. Pilot Ben Kendig remembers the parapacks found beneath their C-47s: All of our squadron's planes carried parapacks.
There were six racks under each of our planes and all were loaded. Once the paratroopers hit the ground they would need all the supplies that they could get.
D-Day historian Paul Woodadge explains: There were some mobile Luftwaffe searchlight units in Normandy but, with the C-47s flying so low they were impossible to keep lit. It's likely that once the fireworks started, any searchlight crews probably gave up and switched to supplying ammo for the gun crews. This C-47, from the 91st Squadron of the 439th Troop Carrier Group, is flown by Lt. Don LePard and hauls stick #70 of E-Company, commanded by Lt.
Buck Compton, and containing troopers Don Malarkey, "Wild Bill" Guarnere, Brad Freeman, Ed Bernat, Joe Lesniewski, and others of the 2nd platoon. This building served as the Hospice for Ste. Mere Eglise and became a field hospital from June 6th onward.
A famous series of photos of Theodore Roosevelt Jr. Were taken in front of this building when he arrived in his Jeep "Rough Rider" from Utah beach on June 8th.
2nd platoon paratroopers Joe Lesniewski and Ed Bernat prepare to exit their C-47. 65+ years later these two paratroopers live just down the hall from one another in the same retirement community!
For the D-Day jump, British made "leg bags" were introduced to the American paratroopers for the first time. "Wild Bill" Guarnere remembers his: We were told to stand up and hook up. I stood up and fell right back down on my ass.
My leg bag was loaded and weighted a ton, it sat on my legs for hours, and they fell asleep. Print Size: 32" x 22.5". Screen colors may vary from print colors. Autographed art and collectibles from Valor Studios are created with the full cooperation of the veteran signers who are compensated fairly for signing each item. DO YOU CARRY OTHER ARTISTS?
We have published prints with John D. Shaw, Gil Cohen, William S. For other, stunning military artwork, just ask!
The item "Matt Hall DDay Art Print Signed by 101st AB, 82nd AB and C-47 pilot" is in sale since Monday, July 31, 2017. This item is in the category "Art\Art Prints". The seller is "valorstudiosinc" and is located in Broomfield, Colorado.
This item can be shipped worldwide.
Original/Reproduction: Artwork Reproduction
Listed By: Publisher
Signed: Signed
Edition Type: Limited Edition
Edition Size: 800
Print Type: Lithograph
Subject: Military & Political
Size Type/Largest Dimension: Large (Greater than 30")