James Dietz Print Signed by Band of Brothers, 2nd AD, & 3rd AD WWII D-day Vets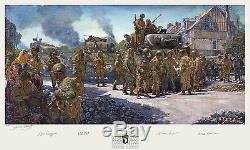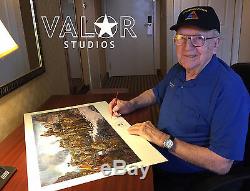 June 6, 1944 - Le Grand Chemin. A fine art print by James Dietz. Fresh from their baptism of fire, the Screaming Eagles of Easy, Dog, and Fox companies, 506th PIR, regroup and rearm, having silenced the guns of Brécourt Manor. From Utah Beach, come the M4 Sherman tanks of the 70th Tank Battalion.
From scattered drop zones across Normandy, come other paratroopers of the 82nd and 101st. Together, theyll return to Brécourt to clear the last resistance, and this time, the tankers will take the lead. They made it off the beach, safe from Brécourts guns, and are eager to repay the favor.
Its just the start of a long, costly crusade, but today, on the day of days, it begins with victory. Only 290 numbered prints, signed by James Dietz & 4 Normandy veterans : - Easy Company D-Day paratroopers Phil Perugini & Brad Freeman! - First wave Omaha Beach tanker Bill Gast!
- "Spearhead" tank gunner Clarence Smoyer, the Panther Killer! INCLUDES: Color COA with "History Behind the Art" story. Sherman Tank Driver on Omaha Beach!
D-Day: the view from a tank on Omaha Beach by Mathieu Rabechault. Washington (AFP) From inside his tank, the young soldier could see practically nothing on Omaha Beach. Seventy years later, William Gast still wonders whether he rolled over his comrades sheltering from German gunfire that day. Gast was 19 years old the morning of June 6, 1944. We came in at H-10, that was 10 minutes before the designated hour. He cannot recall why he and his fellow soldiers arrived early, but he has other memories that have never left him. As part of Company A, 743rd Tank Battalion, 1st Army, Gast remembers the training beforehand in Britain, when he rehearsed driving the Sherman tank onto the landing craft. And then floating in the English Channel. Another night we went out and we didnt come back.
Gast got to know the captain of the landing craft that would ferry his tank to the beaches of Normandy. The skipper promised he would get them close enough that they would not be submerged in water, like so many tanks were that day. Another tank unit at Omaha Beach was less fortunate, with 27 of 32 tanks launched at sea five kilometers (three miles) from the coast sinking before they could reach land, despite being outfitted with a flotation screens. The order was given to go, we started our engines up, they lowered the ramp, said Gast. Amid German shrapnel and sea spray, he could feel the tracks spinning.
Read the rest of Bill's story on our website. Tank Gunner & Panther Killer.
Clarence joined the Army at 18 and was assigned to E-Company, 32nd Armored Regiment, 3rd Armored Division. Clarence started out as a loader on a Sherman crew and landed with the division at Omaha Beach, two weeks after D-Day. He vividly remembers the fierce fighting in the hedgerows, when his arms were often seared by the propellant exhaust after firing.
Clarence then became a gunner and fought throughout France and Belgium, where at the Battle of Mons, he knocked out a Mark IV tank and became an acting tank commander. After punching through the Siegfried Line, for which his regiment earned a distinguished unit citation, Clarence fought in the Battle of the Bulge and in February 1945 was gunner on a crew that received one of twenty top secret T26 Pershing tanks. Taking the Pershing into combat during the Battle of Cologne, Clarence knocked out another Mark IV and then, at the steps of the Cologne cathedral, a German Panther tank. That tank duel was filmed.
And shown in every theater in America at the time and still remains the most seen tank duel in history. After Cologne, the 3rd AD drove deep into Germany, encircling the Ruhr Pocket. During that drive, Clarence knocked out a self propelled gun and soon after, at Paderborn, he destroyed a Panther tank and saved the lives of his fellow tankers who had taken shelter in a nearby barn. Clarence ended the war at the Elbe river in May 1945. One cool July morning in 2008, we found ourselves touring the small village of Le Grand Chemin, adjacent to Brecourt Manor, with legendary paratrooper Don Malarkey. Sixty-four years earlier, Don had fought in this area and he told us how the Brecourt Manor attack was planned from that village and what happened there after the famous attack, stories that would serve as the inspiration for the new painting: Day of Days. Day of Days is set soon after Lt. Ron Speirs, and paratroopers of Easy, Dog, and Fox companies had silenced four 105mm cannons that were firing onto Utah Beach, three miles away.
Here we see the victors of Brecourt Manor, congratulating one another, talking about what they had accomplished, trying to piece together the sequence of events as Stephen Ambrose chronicled. To move off the beaches and reach the airborne troops at Le Grand Chemin. In front of the lead Sherman, we see Lt. Ron Speirs of Dog Company, wholl later take command of Easy during the Battle of the Bulge. Speirs recounts how Dog Company took the fourth cannon.
On the far right, we see the battalion intelligence officer, Lt. Lewis Nixon, his gun drawn for security, as he interrogates a German officer from the 90th Artillery Regiment, stationed at Brecourt and the immediate area.
It was Nixon who had led the Shermans here from Utah Beach. On the left side we see French civilians, eager to greet their liberators. Don Malarkey is seated, examining a German MP40 submachine gun, a far cry from. Buck Compton works the bolt on his M1 Thompson to ascertain why it wouldnt fire during the earlier assault. Around these figures we see some of the fifty or more Easy Company men who gathered in Le Grand Chemin.
Soon, Winters will re-organize them into two platoons and with the tanks leading, theyll assault Brecourt Manor. Harry Welsh would remember the tanks firepower: They just cut those hedgerows to pieces. You thought they would never stop shooting. By midafternoon, Brecourt Manor would be secured and in friendly hands, once and for all. Winters, then acting commander of Easy Company, stands atop an M4 Sherman tank. Hed just consumed the first sip of alcohol in his life, a swig of hard cider, to quench his thirst after the assault and now he identifies the locations of several German machine gun positions around the manor. Clean out anything thats left, he tells the Sherman tank commander.
These Sherman tankers are men of the 70th Tank Battalion, the most experienced separate tank battalion in the Army, one that had landed on enemy shores in North Africa, Sicily, and now, Normandy, where they were the first. Autographed art and collectibles from Valor Studios are created with the full cooperation of the veteran signers who are compensated fairly for signing each item. DO YOU CARRY OTHER ARTISTS? We have published prints with John D.
Shaw, Gil Cohen, William S. For other, stunning military artwork, just ask! The item "James Dietz Print Signed by Band of Brothers, 2nd AD, & 3rd AD WWII D-day Vets" is in sale since Monday, July 31, 2017. This item is in the category "Art\Art Prints".
The seller is "valorstudiosinc" and is located in Broomfield, Colorado. This item can be shipped worldwide.
Listed By: Publisher
Original/Reproduction: Artwork Reproduction
Signed: Artist Signed Only
Edition Type: Main Edition
Framed/Unframed: Unframed