Hercules At Crossroadsalbrecht Durerantique Amand-durand Heliogravure/etching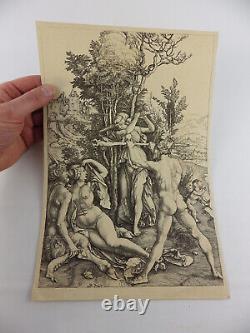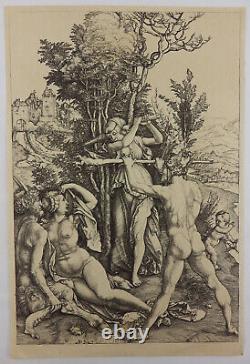 Hotogravure on laid paper by Charles Amand-Durand with. Couple of pale brown patches to image. A little light'buckling' to base of sheet & crease to bottom left corner. Tissue hinge remnant to rear. The plate-mark was originally well outside the margin of the etched work, so the plate itself is cut close to the work so as to be a more accurate facsimile of the original. He was a passionate and talented artist who deeply admired the 15th, 16th, and 17th century Old Masters' engravings. However, whilst studying the engravings Durand could see that many of them were in a poor condition, either because of the ravages of time, or because they had also started out as inferior impressions, taken from worn-out copper plates, that may have also been reworked or adulterated by other hands. He original copper plates used by Rembrandt, Durer, Beham, and others, were now too worn to be printed from and there were too few fine prints in existence that reflected the artists' true intentions. Durand's task of recreating the early etching plates created by these old masters started when the main curator of the Louvre gave him the important mission of restoring the worn down and fragile engravings made by Rembrandt.
The etchings Durand created were based on research and studies he did at the Louvre and other museums and also private collections. And in order to form exact reproductions, he used as his guide, not the worn original copper or wood plates, but the 1st & 2nd state prints of the original works. He then duplicated the images onto new copper plates, which he often reworked to achieve an incredible clarity and accuracy of 1/1000mm through his own technical abilities. His main series of facsimiles began in 1869 with a major periodical publication, Etchings and Engravings of the Old Masters, which contained 401 pieces reproduced under the direction of G. Duplessis, curator of the Department of Prints at the National Library.
This was followed by the publications of engraved works by van Dijck (21 plates, 1875), Dürer 108 pl. 1877, Claude Gellée 42 pl.
1881, Lucas de Leyde 174 pl. No text, and finally by Rembrandt 350 pl.
His works can be identified by the red Helio-A. D stamp on the verso (included in the Lugt Stamp Catalogue #2934). Like others before him, Charles Armand-Durand attempted to democratise the art industry by reproducing the works of famed artists which were hidden from the general public in the repositories of the French National Library, or in the ownership of private collectors and preserve the original quality for future generations. Durands re-engravings became so well respected that major collectors & institutions throughout Europe sought to acquire them during the 19th century and beyond.
In fact, in 1895 Theo Van Gogh, brother and manager of Vincent Van Gogh stumbled across Durands work. He was so impressed that he sought the artist out and afterwards contacted Vincent to express his enthusiasm for his artistic talents and intellect. Van Gogh was one of the many that recognized Amand Durands talents.
In order to create his héliogravures (photogravures), a high quality photograph would have been taken of the original work. The negative would then be exposed onto a gelatin covered copper plate, and etched with acid. At this point, Amand-Durand would then re-etch parts of the plate himself, and then print the works by hand.
The quality of paper used by Durand was of extremely high quality and therefore would preserve the plates from acidity. The earliest forms of photogravure were developed by two original pioneers of photography, first Joseph Nicéphore Niépce in France in the 1820s, and later Henry Fox Talbot in England. In about 1822 Nicéphore Niépce used the process to create the earliest known surviving photograph from nature, View from the Window at Le Gras (1826 or 1827).
Niépce's early images were among the first photographs, pre-dating daguerreotypes and the later wet collodion photographic process. Niépce was seeking a means to create photographic images on plates that could then be etched and used to make prints on paper with a traditional printing press. He used prints engravings etc.
, waxing the paper to make it translucent, then laying this on a copper plate coated with light-sensitive bitumen. He prepared a synopsis of his experiments in November 1829: On Heliography, or a method of automatically fixing by the action of light the image formed in the camera obscura.
Talbot, inventor of the calotype paper negative process, worked on his photomechanical process in the 1850s and patented it in 1852 ('photographic engraving') and 1858 ('photoglyphic engraving'). Photogravure in its mature form was developed in 1878 by Czech painter Karel Klíc, who built on Talbot's research. This process, the one still in use today, is called the Talbot-Klic process.
Albrecht Dürer (1471 - 1528) was a celebrated German polymath. Though primarily a painter, printmaker and graphic artist, he was also a writer, mathematician and theoretician. Born in Nuremberg, Dürer was apprenticed to the painter Michel Wolgemut whose workshop produced woodcut illustrations for major books and publications.
He travelled widely between the years of 1492 and 1494, and is known to have visited Martin Schongauer, the leading German painter and engraver at the time, at his studio in Colmar. In 1495, Dürer set up his own workshop in his native Nuremberg, and, by the beginning of the sixteenth-century, had already published three of his most famous series' of woodcuts: The Apocalypse, The Large Passion, and The Life of the Virgin. Nuremberg was something of a hub for Humanism at this time, and Dürer was privy to the teachings of Philipp Melanchthon, Willibald Pirkheimer and Desiderius Erasmus.
The latter went so far as to call Dürer'the Apelles of black lines', a reference to the most famous ancient Greek artist. Though Dürer's approach to Protestantism was not as staunch as that of his fraternity, his artwork was just as revolutionary. For their technical virtuosity, intellectual scope, and psychological depth, Dürer's works were unmatched by earlier printed work, and, arguably, have yet to be equalled. Please do not hesitate to contact me should you have any questions. Welsh Bridge Books & Collectables is a bricks and mortar shop located alongside the River Severn at Shrewsbury, in a beautiful 16th Century building housing three floors of interesting and eclectic books and collectables for sale.
If you're in Shropshire please pop by and say hello! This item is in the category "Art\Art Prints". The seller is "welsh-bridge-books-and-collectables" and is located in this country: GB.
This item can be shipped to North, South, or Latin America, all countries in Europe, all countries in continental Asia, Australia.
Region of Origin: Europe
Artist: Albrecht Durer
Production Technique: Photogravure
Style: Old Master Print
Item Height: 34cn
Item Width: 23cm
Material: Matte Paper
Time Period Produced: 1850-1899
Type: Print
Culture: European
Original/Licensed Reprint: Original
Year of Production: 1876