Full Set of 15 Bandanas for Artist Band Together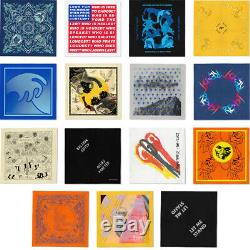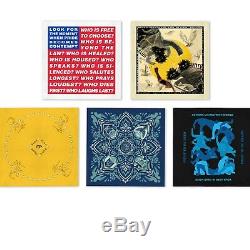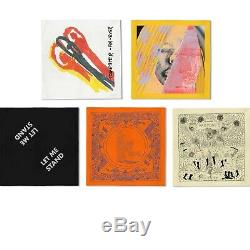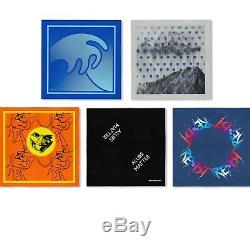 Artist Band Together Full Set. Artists Band Together Full Set. Bandanas by Victoria Cassinova, Shepard Fairey, Jenny Holzer, Luchita Hurtado, Juliana Huxtable, Alex Israel, Merritt Johnson, Christine Sun Kim, Barbara Kruger, Marilyn Minter, Christina Quarles, Umar Rashid, Xavier Schipani, Rirkrit Tiravanija, and Hank Willis Thomas for Freedoms.
Medium: Screen print on cotton. Each bandana measures: 22 inches by 22 inches. By Jenny Holzer features embroidery on cotton. Artists Band Together is a pro-democracy political rebellion in the form of artist-designed bandanas.
From the American Revolution to Harriet Tubman and the abolitionist movement to Rosie the Riveter, bandanas have played an important role as a historical symbol in the struggle for freedom. In the midst of a global pandemic and a powerful civic awakening, our artists bandanas seek to carry that spirit into the future as a sign of our collective commitment to democratic values. As Americans band together to demand justice in the streets, we also have to make sure that our voices are heard at the ballot box in November.
It is the most powerful non-violent tool we have in a democracy. And we must use it. John Lewis (1940 - 2020). Victoria Cassinova is a Los Angeles based visual artist. Her work is rooted in the desire to inspire, empower, and to be a positive contribution through the art of visual communication.
Cassinovas work ranges from murals to illustration, graphic art, and painting. Her work has served as an integral contribution to many social justice collaborations including Blackout for Human Rights annual MLK NOW event, We Rise Exhibition, Sons & Bros.
Branded works include Urban Outfitters, Free People, Anthropologie, Forever 21, Life Clothing Co. Condè Nast with Proactiv & Teen Vogue, Netflix, and more. She has also designed film posters, including Spike Lees Da 5 Bloods. Our Hands - Our Future. Shepard Fairey is a contemporary street artist, graphic designer, activist, and founder of OBEY Clothing and creative agency Studio Number One.
In 1989, while at Rhode Island School of Design studying for his Bachelor of Fine Arts in Illustration, Shepard Fairey created the Andre the Giant has a Posse sticker that later evolved into the OBEY GIANT art campaign. In 2008, his portrait of then-Democratic candidate Barack Obama became an internationally recognized emblem of hope. Since then, Fairey has painted more than 105 public murals, become one of the most sought-after and provocative artists in the world, and changed the way people converse about art and view the urban landscape. For more than forty years, Jenny Holzer has presented her astringent ideas, arguments, and sorrows in public places and international exhibitions, including the Venice Biennale, the Guggenheim Museums in New York and Bilbao, the Whitney Museum of American Art and the Louvre Abu Dhabi. Starting in the 1970s with the New York City posters, and continuing through her recent light projections on landscape and architecture, her practice has rivaled ignorance and violence with humor, kindness, and courage.
Holzer received the Leone dOro at the Venice Biennale in 1990, the World Economic Forums Crystal Award in 1996, and the U. State Departments International Medal of Arts in 2017.
She holds honorary degrees from Williams College, the Rhode Island School of Design, The New School, and Smith College. She lives and works in New York. 1920 has dedicated over eighty years of her painting and drawing practice to the investigation of universality and transcendence. Developing her artistic vocabulary through a coalescence of abstraction, mysticism, corporality and landscape, the breadth of her experimentation with unconventional techniques, materials and styles speak to the multicultural and experiential contexts that have shaped her life and career. Born in Maiquetía, Venezuela, Hurtado emigrated to the United States in 1928, settling in New York where she attended classes at the Art Students League.
She relocated to Mexico City in the late 1940s and, in the following decade, moved to San Francisco Bay, making frequent visits to Taos, New Mexico, and ultimately settling in Los Angeles. 1987 is an artist, writer, performer and DJ whose multidisciplinary practice explores the body, politics, text, and the internet as a resource for marginalized subcultures. Huxtable, who is transgender, uses self- portraiture and performance to reflect on the fluidity of sexuality and gender in a heteronormative society. She is the author of two books and has exhibited and performed widely in the United States and abroad, including at the Institute of Contemporary Art, London; the Musée dArt Moderne de la Ville de Paris, the Museum of Contemporary Art, Chicago; the Museum of Modern Art and Performa, New York; the Guggenheim Museum, New York; and the New Museum, New York. For the last decade, Alex Israels art has embraced pop-culture as a global language.
Trafficking in the invisible stardust of Hollywood and the detritus of film productionbackdrops, sets and propswhile riding the wave of the Internet and social mediaas online talk-show host, eyewear and clothing designer, filmmaker and hologramIsraels art practice doubles as a brand, centered around a Southern Californian millennial lifestyle for which his iconic profile-in-shades-logo becomes a sly emblem, mobilized across high-visibility platforms from the worlds of art, entertainment, fashion and tech. Embedded within each of Israels endeavors is not only a landscape (of LA) and a portrait (of himself), but a cool and savvy meditation on a world fueled by celebrity, product placement and influence.
A sort of sphinx behind dark lenses, the artist provokes an interrogation of the role of contemporary art in this new world. The clouds rain on all our bones. Merritt Johnson is a multidisciplinary artist of Kanienkehaka (Mohawk), Blackfoot, and Settler descent.
She was born in West Baltimore and spent her childhood navigating between trees, tarps and concrete. She earned her BFA from Carnegie Mellon University and her MFA from Massachusetts College of Art. For two decades her work has navigated the spaces between bodies and the body politic, land and cultures by making images and objects as points of intersection.
Johnson's multiplicity is embodied in the materials and processes she employs to create layered works asserting allegiance and agency in the face of continued threats to land, water, culture, and marginalized bodies. The Four Moods of Voting. Bandana By Christine Sun Kim.
Christine Sun Kim uses the medium of sound in performance and drawing to investigate her relationship with spoken languages and her aural environment. Selected exhibitions and performances have been held at: MIT List Visual Arts Center, Cambridge (solo); Ghebaly, Los Angeles (solo); White Space, Beijing (solo); Carroll/Fletcher, London (solo); De Appel, Amsterdam (solo); Serralves Museum, Porto; Sound Live Tokyo; Albright-Knox Art Gallery, Buffalo; Walker Art Center, Minneapolis; Berlin and Shanghai Biennials; Hamburger Bahnhof, Berlin; San Francisco Museum of Modern Art; Whitney Museum of American Art, New York; and the Museum of Modern Art and MoMA PS1, New York.
Barbara Kruger is one of the most influential artists of her generation. Employing media effects and strategies, Kruger creates her own sexual, social, and political messages, challenging the stereotypical ways mass media influences societys notions about gender roles, social relationships, and political issues, resulting in art that compels ethical change and reflection. Kruger is represented in many museum collections, including The Metropolitan Museum of Art, New York; The Museum of Contemporary Art, Chicago; The Museum of Contemporary Art, Los Angeles; The Museum of Modern Art, New York; Solomon R. Guggenheim, New York; and Tate Modern, London. Kruger lives and works in Los Angeles and New York.
Kruger is a Distinguished Professor of New Genres at the UCLA School of the Arts and Architecture. 1948, USA is an artist and activist based in New York. Her work has been the subject of numerous solo exhibitions and has been included in group exhibitions in museums all over the world. In 2006, Marilyn Minter was included in the Whitney Biennial, and installed several billboards in Chelsea, New York City in collaboration with Creative Time. It was also shown on digital billboards on Sunset Boulevard in L.
And on the Creative Time MTV billboard in Times Square, New York. In 2015, Minters retrospective Pretty/Dirty opened at the Contemporary Arts Museum in Houston, TX. Pretty/Dirty traveled to the Museum of Contemporary Art, Denver, the Orange County Museum of Art, and finally the Brooklyn Museum in November 2016. Minter is represented by Salon 94, New York, Regen Projects, Los Angeles and Baldwin Gallery, Aspen. 1985, Chicago received an MFA in Painting from the Yale School of Art in 2016.
Quarles gestural paintings, informed by her identity as a Queer woman born to a Black father and a white mother, challenge the viewer with their depictions of fragmented bodies that blur the boundaries that demarcate the self. Her work has been exhibited throughout the United States and abroad and is held in many national and international museum collections, including Hammer Museum, Los Angeles; Los Angeles County Museum of Art, Los Angeles; Museum of Contemporary Art, Los Angeles; Tate Modern, London; Walker Art Center, Minneapolis; and the Whitney Museum of American Art, New York. She is the recipient of the Perez Art Museum Miami Perez Prize (2019); Rema Hort Mann Emerging Artist Grant (2017); and the Robert Schoelkopf Fellowship at Yale University (2015). Christian Quarles lives and works in Los Angeles.
Los Angeles-based artist, storyteller, history buff, musician, and poet Umar Rashid (Frohawk Two Feathers) was born in 1976 in Chicago. He earned a BA at Southern Illinois University in 2000 and has exhibited widely nationally and internationally. His work has been presented at numerous institutions including the Hudson River Museum, the Wadsworth Atheneum Museum of Art, the Nevada Museum of Art, the Visual Arts Center of New Jersey, the Ruth and Elmer Wellin Museum of Art at Hamilton College, the Museum of Contemporary Art, Denver, The Armory Center for the Arts, the Contemporary Arts Center, Cincinnati, the Kentucky Museum of Art and Craft, the Torrance Art Museum, and the Santa Barbara Museum of Art.
Xavier Schipani is a trans artist whose practice is dedicated to articulating the personal, social and political aspects of his identity. His joyful and vivid figurative paintings celebrate the trans male nude and offer visibility for non-binary bodies. The large scale of much of his work is intentional and references the monumental loss that trans lives have experienced due to a historical lack of representation.
By offering a visual identity to accompany transmasculinity, his art seeks to construct safe spaces where restrictive sexual and gender norms lose their hold and open dialogue is possible. Xavier Schipanis work has been widely exhibited and appears in commissioned public murals from Austin to New York City. A graduate of the Maryland Institute of Art, the artist lives and works in Austin, Texas. Rirkrit Tiravanija is a Thai artist who lives between New York, Berlin, and Chiang Mai. He is known for a practice that traverses sculpture, film, installation, public and private performances, teaching, and forms of public service and social action.
He has routinely overturned traditional exhibition formats to emphasize social interaction, through the sharing of everyday activities such as cooking, eating and reading. As platforms for these activities, he has designed architectural structures and interventions, presented both in gallery and public spaces.
Tiravanijas ability to create environments that reject the primacy of the art object, instead promoting the bringing of people together through simple acts of communal care and the challenging of expectations around labour and virtuosity, has resulted in his recognition as one of the most influential artists of his generation. Winner of the 2005 Hugo Boss Prize awarded by the Guggenheim Museum, and his work has been widely exhibited at museums and galleries throughout the world.
Bandana By Hank Willis Thomas For Freedoms. Hank Willis Thomas is a conceptual artist working primarily with themes related to perspective, identity, commodity, media, and popular culture. His work is included in numerous public collections including the Museum of Modern Art in New York; Solomon R. Guggenheim Museum, New York; Whitney Museum of American Art, New York; Brooklyn Museum, New York; High Museum of Art, Atlanta, and National Gallery of Art, Washington D.
His collaborative projects include Question Bridge: Black Males, in Search Of The Truth (The Truth Booth), Writing on the Wall, and the artist-run initiative for art and civic engagement For Freedoms, which was awarded the 2017 ICP Infinity Award for New Media and Online Platform. For Freedoms uses art to deepen public discussions on civic issues and core values. As a nexus between art, politics, commerce, and education, For Freedoms aims to inject anti-partisan, critical thinking into the political landscape through programming, exhibitions, and public artworks.
Mijente is a political, digital, and grassroots hub for Latinx and Chicanx organizing and movement building. Rise is a student-led nonprofit organization mobilizing college students through advocacy and voting campaigns nationwide. Woke Vote is investing in the long-term activation of new organizers and mobilizing historically disengaged voters in black constituencies. Care Instructions: Hand wash cold only and line dry. Matchfire is a promotional agency which helps define client brand promotional strategy through auctions and sales, delivers creative design, and manages operations of feature online auctions and sale for maximum visibility of well-known brands, media companies, charities, nonprofits, public relations firms and advertising agencies.
Q: Is the campaign open internationally? A: Unless otherwise noted above the campaign is open worldwide. Q: Will a receipt be provided? The platform launched in 2003 and has helped over 83 thousand nonprofit organizations architect and implement fundraising ideas and charity auctions that engage over 197 million active buyers. Warranties: It is the buyers responsibility to preview any item(s) and determine condition, authenticity, and content. Rise, Mijente and Woke Vote will receive equal proceeds of the funds from this sale after administrative costs are covered. All sales are in US dollars. This campaign does not include any items or services that are not detailed above.
This practice is illegal and carries legal consequences in many areas. Please note that due to the nature of high profile campaigns, we have occasionally experienced attempted fraud through the use of second chance offers. Your participation in this campaign constitutes acceptance of these terms and conditions.
Limited inventory will be updated regularly. The item "Full Set of 15 Bandanas for Artist Band Together" is in sale since Monday, August 17, 2020.
This item is in the category "Art\Other Art". The seller is "artists_band_together" and is located in San Luis Obispo, California. This item can be shipped worldwide.
Artist: Various
Medium: Screen print on cotton, Embroidery on cotton
Brand: Unbranded
Year: 2020
Width (Inches): 22
Originality: Limited Edition Print
Height (Inches): 22