Francis Bacon, Triptych-Three Studies for Portrait of Lucian Freud 1966, Signed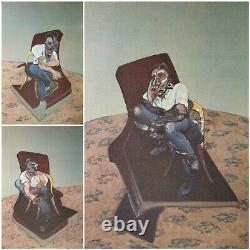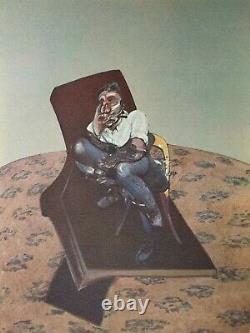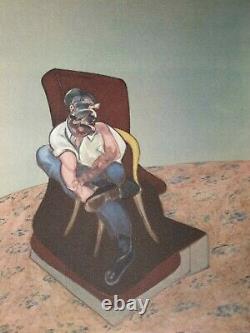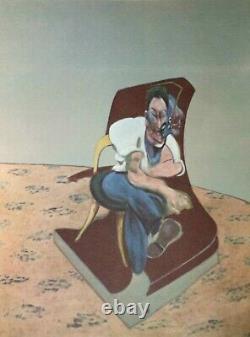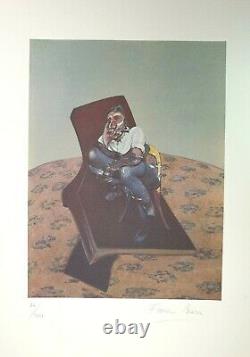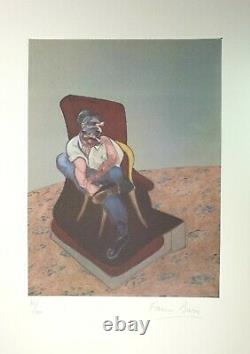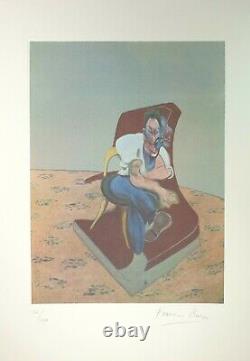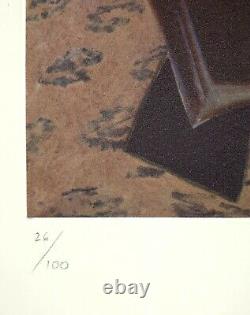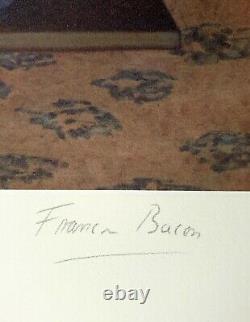 Francis Bacon, Triptych-Three Studies for Portrait of Lucian Freud 1966, Hand Signed Lithographs. 11.6" x 8.3".
It sells as a copy. No certificate of authenticity (COA). You will receive the item from the photos. I accept return within 14 days.
The lithograph will be without a frame. Is a printing process that uses a flat stone or metal plate on which the image areas are worked using a greasy substance so that the ink will adhere to them by, while the non-image areas are made ink-repellent. A printing process based on the fact that grease and water do not mix. The image is applied to a grained surface (traditionally stone but now usually aluminium) using a greasy medium: such as a special greasy ink - called tusche, crayon, pencils, lacquer, or synthetic materials.
Photochemical or transfer processes can also be used. A solution of gum arabic and nitric acid is then applied over the surface, producing water-receptive non-printing areas and grease-receptive image areas. The printing surface is kept wet so that a roller charged with oil-based ink can be rolled over the surface, and ink will only stick to the grease-receptive image area.
Paper is then placed against the surface, and the plate is run through a press. Lithography was invented in the late eighteenth century, initially using Bavarian limestone as the printing surface. Its invention made it possible to print a much wider range of marks and areas of tone than possible with earlier printmaking relief intaglio methods. It also made colour printing easier: areas of different colours can be applied to separate stones and overprinted onto the same sheet.
Offset lithography involves printing the image onto an intermediate surface before the final sheet. The process is'offset' because the plate does not come in direct contact with the paper, which preserves the quality of the plate.
With offset lithography, the image is reversed twice and appears on the final sheet the same way round as on the stone or plate. ETCHING is a printmaking technique that uses chemical action to produce incised lines in a metal printing plate which then hold the applied ink and form the image. The plate, traditionally copper but now usually zinc, is prepared with an acid-resistant ground. Lines are drawn through the ground, exposing the metal. The plate is then immersed in acid, and the exposed metal is'bitten', producing incised lines. Stronger acid and longer exposure produce more deeply bitten lines. The resist is removed, and ink applied to the sunken lines but wiped from the surface. The plate is then placed against the paper and passed through a printing press with great pressure to transfer the ink from the recessed lines. Sometimes ink may be left on the plate surface to provide a background tone.
Etching was used for decorating metal from the fourteenth century but was probably not used for printmaking much before the early sixteenth century. Since then many etching techniques have been developed, which are often used in conjunction with each other: soft-ground etching uses a non-drying resist or ground, to produce softer lines; spit bite involves painting or splashing acid onto the plate; open bite in which areas of the plate are exposed to acid with no resistance; photo-etching (also called photogravure or heliogravure) is produced by coating the printing plate with a light-sensitive acid-resist ground and then exposing this to light to reproduce a photographic image.
Foul biting results from accidental or unintentional erosion of the acid resist. Like engraving, etching is an intaglio technique. Intaglio refers to all printing and printmaking techniques that involve making indents or incisions into a plate or print surface which hold the ink when ink is applied to the surface and then wiped clean. Francis Bacon was an Irish artist and one of the most unique, engaging figurative painters to emerge during the post-war period.
His grotesque imagerycontorted limbs, howling mouths agape, bloodserved as a method of exploring nihilism and death at a time when Europe had been repeatedly savaged by war. Inspired by both the Old Masters and Surrealism, Bacon produced several compositions based on the work of other painters, notably including his arresting Study After Velazquezs Portrait of Pope Innocent X (1953).
In this iconic work, Bacon transforms Diego Velazquezs classic portrait into a screaming, terrifying figure. I feel ever so strongly that an artist must be nourished by his passions and his despairs, he once said. The feelings of desperation and unhappiness are more useful to an artist than the feeling of contentment because desperation and unhappiness stretch your whole sensibility. Born on October 28, 1909, in Dublin, Ireland, the self-taught artist moved to London to escape a hostile home life. Bacon became part of the local art scene in the British capital, which included his friends Lucian Freud, Isabel Lambert, and John Deakin.
After the death of Bacons lover in 1972, his work became even more personalized, with a renewed focus on mortality. In 1963, a retrospective at the Guggenheim Museum in New York brought international prestige, which continued until his death on April 28, 1992, in Madrid, Spain. Today, his works are held in the collections of The Museum of Modern Art in New York, the Tate Gallery in London, the Art Institute of Chicago, the Hugh Lane in Dublin, and the Albertina in Vienna, among others. The item "Francis Bacon, Triptych-Three Studies for Portrait of Lucian Freud 1966, Signed" is in sale since Saturday, October 5, 2019.
This item is in the category "Art\Art Prints". The seller is "floreacip" and is located in Bucharest. This item can be shipped worldwide.
Size: Small (up to 12in.

)

Artist: Francis Bacon
Listed By: Dealer or Reseller
Medium: Lithograph
Date of Creation: Modern (1900-79)
Features: Signed
Subject: Portrait
Print Surface: Paper