Falling Buffalo 22x30 Western Art Photograph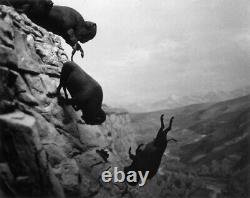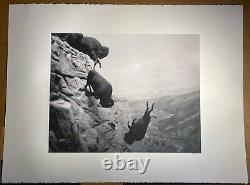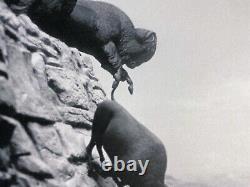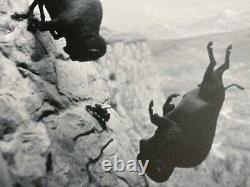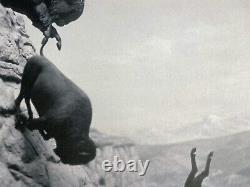 The photograph was taken between 1988 and 1989, when the world was first reacting to the AIDS crisis, and when Wojnarowicz himself was diagnosed with the disease. The alarming image is one of his most haunting images of protest, depicting buffaloes stampeding over the edge of a cliff. Wojnarowicz drew a parallel between the near-extinction of buffaloes in the 19th century and the AIDS crisis which was running out of control.
The buffalo jump image was part of a large diorama at the National Museum of American History when, in the late 1980s, artist/writer David Wojnarowicz photographed it. Limited to 100 prints, each print is hand numbered. The image is printed on mould-made, 100% cotton rag watercolor paper imported from France. The image size is 19 x 15 inches. The paper size is 30 x 22 inches. The image is printed using specially engineered ink technology for optimum image quality and over 100 years of lightfastness. Guaranteed to be new and in mint condition. The result is a stunning work, handsome, moody and would look great with any decor. We use the same printer as the Museum of Fine Art in Boston. The image is printed "Giclee".
Giclee is a high-resolution digital print that is created by a series of tiny jets spraying millions of droplets of printing ink onto the highest quality archival artists' paper. The spray generates more than four million droplets of ink per second; hence, the name Giclee, which is French for fine spray. A precise computer control panel insures consistency of hue, value, and density. Giclees are of such phenomenal quality that even some art experts have difficulty telling a Giclee from an original. This fact has prompted museums and collectors to substitute Giclees for originals, thereby safeguarding priceless works in vaults.
Since the Giclee process produces a combination of 512 chromatic changes (with over three and one-half million colors possible) and the resolution is two to three times that of lithographs or serigraphy, a Giclee captures every nuance of an original. Guaranteed to be in mint/new condition. Look and see what other collectors have said! The art print came today and it looks great. We're building a new Arts and Crafts house and this will look great.
The Print arrived today, and I must say that it is even more beautiful than I had imagined. I know I will enjoy it for a long time. So pleased to be purchasing this art print of yours. It is beautiful and will, I'm sure, look stunning in the home we will soon be building in the city.
Hi, I received my print and I love it! It will have a place of honor in our home.
Thanks for the prompt service. I can't wait to get it up on my wall soon. Thank you so much, not only for the lovely print, but for packing it so well. I just wanted to drop you a line and tell you how nice the picture is. In fact, much nicer in person than I thought.
I can hardly wait to get it framed. Just a brief note to tell you how much I love my print.
Notify me if you have any other prints available..... I have received your lovely print.
It will be a beautiful addition to my home. It will look great hanging with my other prints.
I received the print on Tuesday. Thanks for the fast turnaround!!! Most collectors like to get their own frames. Check out my feedback Profile!
Thank you for your business. International Buyers - Please Note.
Doing that is against U.