Beautiful Swans Couple In The Lake Canvas Print, Serene Spring Scene Art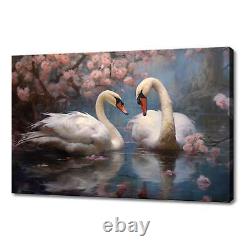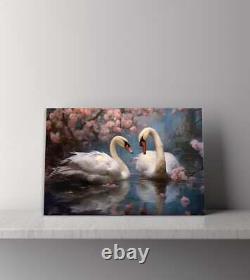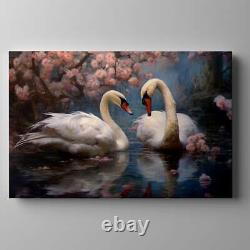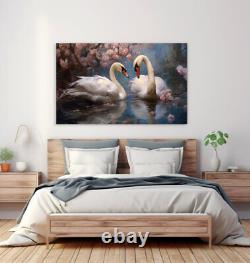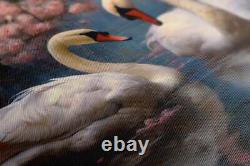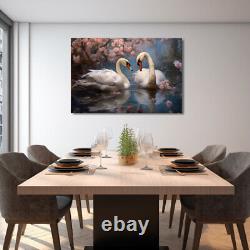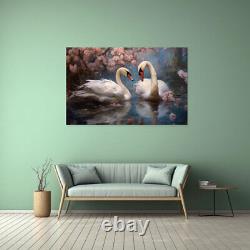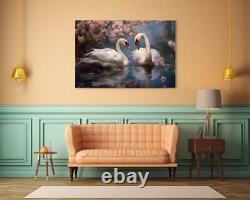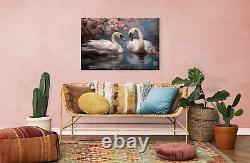 Experience the tranquil beauty of nature with our Serene Birds on Blooming Trees Canvas Print. This captivating artwork captures a peaceful moment in the heart of nature, where birds gracefully perch on blossoming trees, creating a picturesque scene that calms the soul. Crafted with artistic finesse, our Canvas Print showcases vibrant colors and intricate details, bringing the essence of springtime to life on your walls. The soft pastel hues of the blossoms and the delicate feathers of the birds blend harmoniously, creating a soothing and enchanting ambiance. Printed on high-quality canvas using state-of-the-art technology, this artwork radiates with vivid colors and lifelike textures, replicating the allure of an authentic painting. The premium canvas material ensures durability, making this print a cherished centerpiece in your home for years to come. Whether you place it in your living room, bedroom, or any space that craves a touch of natural beauty, our Birds Canvas Print instantly elevates your decor with its ethereal charm and artistic allure. Select the perfect size from our range of options to suit your decor preferences.
Each print comes stretched on a sturdy wooden frame, making it ready to hang upon arrival, simplifying the installation process. Our Serene Birds on Blooming Trees Canvas Print also makes a thoughtful and heartfelt gift for birdwatchers, nature enthusiasts, or anyone who appreciates the peacefulness of the great outdoors. Whether it's a housewarming present, a birthday gift, or a token of appreciation, this artwork is sure to bring joy and serenity to the recipient. Embrace the serenity of nature's beauty with our Serene Birds Canvas Print. Experience the magic of a tranquil moment, captured on canvas for you to enjoy every day.
Order now and create a haven of peacefulness and enchantment in your home. MATERIAL AND SERVICES CANVAS High-quality white matte canvas with a smooth woven surface, specifically designed for quality inkjet printing, providing unbeatable image quality made to last for years.
INKS AND COLOURS UV and fade resistant pigment ink lasting up to 75 years for a pin sharp and vibrant canvas print quality. Archivally excellent Ultra Chrome pigment based inks. FRAMES Premium European solid pine or fir wood, kiln-dried to 8% moisture content, available in two types, chunky 4 cm and standard 2 cm thick. SIZE OPTIONS Canvas prints are made to order.
Select the frame size from the drop down menu at top. OUR METHOD Canvas prints are stretched by hand onto a wooden frame, stapled and taped at the back.
The staples are not visible and you do not need a special kit to put your canvas print up. The frame will sit perfectly on nails or screws.