ANGEL RICARDO RIOS Artist Original Hand-Signed Serigraph #4 Maison Commode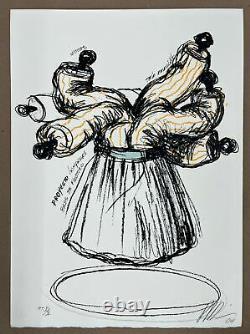 Angel Ricardo Ricardo Ríos (Cuban, 1965). Serigraph, Limited edition of 100. Overall Size: 39 x 28.5 cm. 15.33 x 11.25 in. Surface: Guarro Super Alpha 250 g.
Hand-signed, COA (Certificate of Authenticity) included. Moises Valdes Gallery: Since 2000, supporting art creation with Printmaking Studio La Siempre Habana in Mexico, and promoting art collecting with Moises Valdes Gallery in Miami. As publisher of limited editions prints, we have made about 300 editions and worked with around 100 artists such as José Luis Cuevas, Raúl Anguiano, Alejandro Santiago, Tomás Sánchez, Roberto Fabelo, Luis Miguel Valdés, Sergio Hernández and more. Also, manages a large inventory from other printmaking studios with artists as Wifredo Lam, Roberto Matta, Leonora Carrington, Rufino Tamayo, Francisco Toledo, and many more. Our artworks has been acquired by several private and public collections such as museums, universities and companies: Arizona State University; University of California, Irvine; Museum of Contemporary Art North Miami; UNAM (Universidad Autónoma de México), UAM (Universidad Autónoma Metropolitana); CEMEX (Cementos de México); PEMEX (Petróleos Mexicanos), Bolsa Mexicana de Valores, Nortel de México, Marriott and Rosewood Hotels.
Visit our store and website. All editions are limited and every work is signed by the author. Welcome to our inventory and thanks for supporting art creation.
Artworks' condition: most of the pieces are in mint condition. As publishers of limited edition prints, we store the works in our preservation archives.
Series number available and artwork's pictures: we show a picture with a work of the edition. The serial number in the photo is not necessarily the work available. Pictures: We put our best effort to show the works as they are.
Variations in color tones are highly dependent on your device screen. COA (Certificates of Authenticity): All artworks include COAs issued by artists, publishers, printmaking studios, or galleries.
Read Feedback and find out how satisfied buyers refer to this. 850+ artists and 6.000+ artworks.
[Paintings, Works on Paper & Limited Edition Prints]. [Cuban Art, Mexican Art, Spanish Art, Latin American art]. Abel Cuerda, Abraham Gustín, Abraham La Calle Marcos, Adán Paredes, Adigio Benítez, Adolfo Estrada, Adrían García Gutiérrez, Agustín Bejarano, Agustín Ibarrola Goicoetxea, Agustín Rolando Rojas, Agustín Ubeda Moreno, Ahmed Nawar, Alaleh Alamir, Albert Ráfols Casamada, Alberto Cabazos, Alberto Carneiro, Alberto Castro Leñero, Alberto Corazón Climent, Alberto Gironella, Alberto Lescay, Aldo Damián, Aldo Menéndez, Aleix Plademunt Pérez, Alejandro Arrechea Fong, Alejandro Colunga, Alejandro Corujeira, Alejandro Görnemann, Alejandro Mendoza, Alejandro Nava, Alejandro Pintado, Alejandro Santiago, Alex Hanimann, Alex Katz, Alexander Apóstol, Alexandra Paperno, Alexandra Rein, Alexandre Arrechea Zambrano, Alexandre Siches, Alexei Kostroma, Alfonso Albacete Carreira, Alfonso Borrell Palazón, Alfonso Fraile, Alfonso Galván Domínguez, Alfonso Mena, Alfredo Alcain Partearroyo, Alfredo García Revuelta, Alfredo Sosabravo, Alfredo Zalce, Alice Aycock, Alison Wilding, Almut Rink, Alvaro Lapa, Amadeo Gabino Ubeda, Amador Montes, Amalia Avia, Ana Bellido Zambrano, Ana Juan Gascón, Ana Soler Baena, Ana Tiscornia, Ana Tostes Alegría, Andoni Euba Fuentes, André Brugioni Poli, Andréas Lang, Andreas Müller-phole, Andrés Barajas, Andrés Nagel Tejada, Andrés Rábago García, Andrés Rueda, Andrew Huston, Ángel Alfaro, Ángel Delgado, Ángel Masip Soriano, Ángel Pascual Rodrigo, Angel Ramírez, Ángel Ricardo Ricardo Ríos, Ángel Santiago Plata, Ángeles Marco Saturnino, Ángeles San José Moya, Angelo Casciello, Anibal Merlo, Ann Noël, Anna Bella Geiger, Anna Malagrida Miquel, Anonimo, Anselm Reyle, Anthony Aziz & Sammy Cucher, Antón Patiño Pérez, Antoni Miró Bravo, Antoni Tàpies, Antonio Alcazar, Antonio Diaz Cortés, Antonio Lorenzo Carrión, Antonio Nascimento Baltazar Torres, Antonio Ramírez, Antonio Rodríguez Valdivieso, Antonio Rojas, Antonio Saura, Antonio Segui, Antonio Villatoro, Antonio Zarco, Aramis Ney, Aramis Potamianou, Ariosto Otero, Armando Mariño, Arthur Secunda, Artur Heras Sanz, Arturo Montoto, Arturo Zapata, Augusto Andradre Díaz, Aurelia (lita Mora) Mora Millán, Avelino Sala Calvo, Aziyadé Ruiz, Bartolozzi, Baruj Salinas, Bela Gold, Belén Uriel Fernández, Benet Rosell, Benito Zamora, Bernardi Roig, Bill Beckley, Blanca Muñoz Gonzalo, Bolumar, Bonifacio, Boris Saveliev, Boris Viskin, Brian Nissen, Carla Guarienti, Carla Rippey, Carles Congost Feliu, Carlos Aguirre, Carlos Alberto García, Carlos Caminha Vergara Dos Santos, Carlos Capelán, Carlos De Paz Simón, Carlos Franco Rubio, Carlos Garaicoa Manso, Carlos León Escudero, Carlos Neto, Carlos Pazos Moya, Carlos Pérez Siquier, Carlos Quintana, Carlos Rafael Uribazo, Carlos René Aguilera, Carlos Ríos, Carlos Sánchez, Carlos Sánchez Pérez, Carlos Sanz Aldea, Carlos Serrano García, Carme Garcés, Carmela García Perez, Carmelo Ortíz De Elguea, Carmen Bordes, Carmen Calvo Saenz De Tejada, Carmen Parra, Cecilia García Amaro, Cecilia Paredes, César Flores, César Luengo, Cesar Martínez, César Paternosto Nethol, Chantalle Mazin, Chema Alvargonzalez, Chema Cobo, Chema Madoz, Chino López, Choco (Eduardo Roca), Choco Eduardo Roca Salazar, Christian Bagnat, Christo & Jeanne Claude, Ciro Beltrán, Cisco Jimenez, Coma Estadella, Cristina Blanch Vallhonrat, Cristina Iglesias, Cristina Pérez Lucas, Cristóbal Gabarrón Betegon, Cristóbal Torral, Curro Ulzurrun, Dámaso Ruano Gómez, Daniel Cabrejas, Daniel Lupión Romero, Daniel Senise, Dany Vescovi, Darío Álvarez Basso, Darío Villalba, David Alfaro Siqueiros, David De Almeida, David Israel Pérez Aznar, David Maisel, Demián Flores, Denis Long, Denis Oppenheim, Diana Balboa, Diana Larrea, Diego José Ortíz González, Diego Romero, Dimitri Topolsky, Dis Berlín, Domenico Catania, Domingo Martín, Donald Sultan, Dorothea Rockburne, Douglas Abdell, Ed Ruscha, Edgar Insuasty Salas, Eduard Resbiere Vázquez, Eduardo Abela, Eduardo Arranz-bravo De Laguna, Eduardo Arroyo Rodríguez, Eduardo Barco Rojas, Eduardo Bonati, Eduardo Chillida, Eduardo Gruber Gamechogoicoechea, Eduardo Naranjo, Eduardo Sanz Fraile, Eduardo Scala, El Cuervo, Elena Asins Rodríguez, Elena Del Rivero, Elena Gómez Toussaint, Elena Jiménez Moreno, Eleomar Puente, Elio Rodriguez, Elisabeth Alicia Aro, Elke Marhöfer, Elvira Bach, Emil Schumacher, Emilia Azcarate, Emiliano Gironella, Emilio Gañán Sequeira, Emilio Said, Emmett Williams, Enric Mas I Barceló, Enrique Brinkmann Parareda, Enrique Cattaneo, Enrique Martínez Guillén, Enrique Sebastian Carbajal, Enzo Cucchi, Enzo Esposito, Erik Kirksaether, Ernesto García Peña, Ernesto Rancaño, Ernesto Vila, Esterio Segura Mora, Esteve Casanoves, Esther Boix, Eugenio Marchesi Hércules De Sálazar, Eva Lootz Pater, Ever Fonseca, Evru artist Proof Productions, S. L, Fabian Ugalde, Fabrizio Plessi, Federico Guzmán, Federico Guzmán Romero, Felipe Alarcón, Félix Beristáin Amallobieta, Félix Ferreras, Fernanda Da Conceiçao Maria Fragateiro, Fernando Aceves Humana, Fernando Aguirre, Fernando Almela, Fernando Andriacci, Fernando Baños, Fernando Bellver Chango, Fernando Casares, Fernando De Szyszlo, Fernando Estarque Casás, Fernando García Correa, Fernando Pagola Marín, Fernando Sánchez Castillo, Fernando Sánchez-Calderón, Fernando Varela Calveiro, Fidel Sclavo Fernández, Fina Miralles, Flavio Garciandia, Flor Minor, Florencio Gelabert, Fram Ramírez Alba, Fran López Bru, Francesc Artigau Seguí, Francis Bacon, Francisca Mompó Rabadán, Francisco Borja De Sumozas Gar, Francisco Castro Leñero, Francisco Corzas, Francisco Farreras Ricart, Francisco González Almengló, Francisco González Jiménez, Francisco J.
Martín Villarrubi, Francisco Javier González Naranjo, Francisco Mármol Frigolet, Francisco Mateo Rodríguez, Francisco Nieva, Francisco Toledo, Francisco Tropa, Francisco Zúñiga, Franco Aceves Humana, Franco Manterola, Frederic Amat, Frederic Brandon, Fritz Scholder, Gabriel Macotela, Gabriela Arévalo, Garikoitz Cuevas, Geoff Mc. Ewan, Geor Ripley, Georg Massanés, Gerardo Aparicio Yagüe, Gerardo Delgado, Gerardo López Mozo, Gerardo Rueda, Germán Venegas, Gerold Miller, Geysell Capetillo Alvarez, Gianmarco Montesano, Gilberto Aceves, Gilberto Aceves Navarro, Gino Rubert Català, Giorgio Cattani, Gonçalo Bénard Guedes, Guadalupe Sierra, Guido Anderloni, Guillermo Conte, Guillermo Díez Celaya, Guillermo García Lledó, Guillermo Pérez-villalta, Gunther Gerzso, Gustavo Acosta, Gustavo Arias Murueta, Gustavo Montoya, Hannah Collins, Hannsjörg Voth, Hans Hinterreiter, Hans Jürg Buckmeire, Hartmut Böhm, Hassan Alí Hamed, Helen Escobedo, Helen Frankenthaler, Helena Martins Costa, Henry Isaac, Henry Ramírez Ayala, Heriberto Juárez, Herman Braun-vega, Hervé Télémaque, Hilarius Hofstede, Humberto Castro, Humberto Ortiz, Humberto Rivas Ribeiro, Hunt Slonem, Ian Anüll, Ignacio Caballo Trébol, Ignacio Gumucio, Igor Gabor, Igor Mischiyev, Ilse Gradwohl, Imanol Marrodán Bernabé, Imelda Ferrer, Indalecio (ciuco) Gutiérrez López, Inti R. Hernández Veranes, Irineu García, Irma Palacios, Isaac Pérez Vicente, Isabel Flores González-moro, Isabel López Mora, Isabel Martínez Rubio, Isabel Muñoz Villalonga, Isabel Pons, Isabel Villar, Isidro Parra Molina, Ismael Vargas, Iván Araujo, Iván Larra Plaza, Iván Trueta, Ivonne Domenge, Ivonne Ferrer, Jafar Kaki t, Jaime Gil, Jaime Montserrat Amigo, Jan Hendrix, Jardiel, Jaume Plensa, Javier Arévalo, Javier Campano Mendaza, Javier De Juan, Javier De Juan Martínez, Javier Guadarrama, Javier Hinojosa, Javier Lozano, Javier Mariscal, Javier Oscar Molina Perez, Javier Pagola, Javier Pagola Marín, Javier Riera Salís, Javier Roz, Jazzamoart, Jean Luc Manz, Jean Miotte, Jean Wolff, Jesús " Chucho" Reyes Ferreira, Jesus Alfonso Sicilia Sobrino, Jesús González De Armas, Jesús Micó Palero, Jim Bird, Jimmy Ernst, Joan Barbará, Joan Bennàssar Vives, Joan Fontcuberta Villà, Joan Hernández Pijuan, Joan Miró, Joan Pere Viladecans, Joan Ponç, Joaquim Chancho, Joaquín Capa Eiriz, Joaquín Saenz, Jochen Twelker, Johanna Speidel, Jon Ander Del Arco, Jordi Alcaraz Tarradas, Jordi Bernadó Tarragona, Jordi Guillumet Anés, Jordi Teixidor De Otto, Jorge Barbi Alonso, Jorge Bayo Lon, Jorge Camacho, Jorge Castillo, Jorge Castillo imagen Repetida, S.
L, Jorge De Juan Martínez, Jorge Galindo, Jorge Gumbe, Jorge Macchi, Jorge Martinez Caamaño, Jorge Oteiza, Jorge Queiroz, Jose De Guimaraes, José Alberto López Sánchez, José Antonio Pérez De Vargas Y Saldaña, Jose Artur Sobral Centeno, Jose Bedia, José Bedia, José Bernardo Albuquerque Mendes, José Caballero, José Castro Leñero, José Catalá, José Dámaso Trujillo, José De Guimaraes, José Esteban Martínez, José Fernández Freixanes, José Fors, José Fuentes Esteve, José Hernández Muñoz, José Iraola, José Juan López Ródenas, José Juan Mar, Jose Lourenço, José Luis Alexanco Pacheco, José Luis Bustamante, José Luis Cuevas, José Luis Pascual, José Luis Sánchez Fernández, José Luis Santalla Rodríguez, José Luis Serrano Descalzo, José Mª Ballester, José Mª Díaz Maroto Galguera, José Mª Iglesias, José Mª Kaydeda, José Manuel Broto Gimeno, José Manuel Ciria Baraja, José Manuel Fors, José Manuel Varela Vela, José María Sicilia, José María Yturralde, José Ney Mila, José Niebla, José Pedro Croft, José Piñar, José Sacal, José Simón Martín, José Vento Ruíz, José Viera, Josechu Dávila Buitron, Josep Guinovart, Josep Guinovart Bertrán, Josep Mª Riera I Aragó, Josep Mª Subirach, Josep María Riera I Arago, Joseph Kosuth, Jovan Balov, Joy Laville, Juan Alcalde Alonso, Juan Ángel Olivares Luque, Juan Antonio Galea Barjola, Juan Cardell Alemán, Juan Carlos Alom, Juan Carlos González-santiago, Juan Genovés Candel, Juan Giralt Ortíz, Juan Gomila, Juan José Gómez Molina, Juan José Tharrats, Juan Lacomba, Juan Manuel Castro Prieto, Juan Mieg Solozabal, Juan Miguel Pozo, Juan Muñoz, Juan Ramón G. Elduque, Juan Romero Fernández, Juan San Juan Rebollar, Juan Sebastián Barberá, Juan Sebastian Barbera Duron, Juan Soriano, Juan Sotomayor Román, Juan Ugalde Díez, Juan Vida, Julia López, Julián Gil Martínez, Julián Grau Santos, Julio Girona, Julio Larraz, Julio Zachrisson Acebedo, Jurandy Valença, Justino Alves, Justo Barbosa, K. Rakoll, Katsuhito Nishikawa, Kcho (Alexis Leiva Machado), Kcho Alexis Leiva Machado, Kcho Alexis Leyva Machado, Keiko Mataki, Keith Sonnier, Kerstin Drechsel, Kira Oriola De Santos, Koche, Koraichi, Laura Lío Martorelli, Lazer Fundora, Leonardo Cumbo, Leonardo Gotleyb, Leonel Maciel, Leonid Nepomniachi, Leonora Carrington, Leopoldo Novoa García, Liliana Porter, Lissete, Lluis Lleó, Los Carpinteros (marco Y Dagoberto), Lourdes Murillo Álvarez, Lucía Maya, Luciana Crepaldi, Lucio Muñoz Martínez, Luis Arias-vera, Luis Cabrera, Luis Camnitzer, Luis Caruncho, Luis Cruz Hernández, Luis Eduardo Aute, Luis Feito López, Luis Felipe Espejo Ledesma, Luis García Ochoa, Luis Gómez, Luis Gordillo, Luis Lara, Luis Marín, Luis Miguel Valdés, Luis Moro, Luis Pérez Vega, Luis Quintero Brea, Luis Rodolfo Trimano, Luis Romero, Luis Salaberria García, Luis Serrano Martínez, Luis Tomasello, Luis Valsoto, Mª Ángeles Agrela Romero, Mª Jesús García Fraile, Mª Linarejos Moreno Teva, Mª Luisa Pérez Pereda, Mª Luisa Sanz García Muro, Mª Rosa Pérez-carasa, Madeleine Dietz, Magali Lara, Maite Monzón Barbero, Manel Esclusa, Manolo Campoamor, Manuel Alcorlo, Manuel Arenas, Manuel Barca, Manuel Boix Álvarez, Manuel Dimas Salamanca Mota, Manuel Felguérez, Manuel Felguérez - Ferrus, Manuel Hernández Mompó, Manuel Laguillo Menéndez, Manuel Lledós, Manuel Marin, Manuel Pérez Pavón, Manuel Rivera, Manuel Rufo Cabello, Manuel Velasco, Manuel Victorio, Manuel Vilariño Seco, Mar Gasca, Marco Lamoyi, Marcoida, Marcos Bontempo Riga, Marcos Lopez, Marechal, Margot Venegas, María Cremades Erades, María Gallo, María Moreno, María Silvestre Marco, María Viñas Pena, Mario Martin Del Campo, Marta Cárdenas Díaz De Espada, Marta María Pérez Bravo, Martí Cormand Rifà, Martín Chirino, Martín Y Sicilia, Maryán, Massimiliano Frumenti, Mauricio Cervantes, Maurizio Lanzillotta, Max Papart, Maximino Javier, Menchu Lamas, Mercedes Lara Garzás, Michael Kähne, Michelle Stuart, Miguel Ángel Blanco, Miguel Castro Leñero, Miguel Conde, Miguel Condé, Miguel Trillo Huertas, Milton Becerra, Mimmo Rotella, Ming Yi Chou, Miquel Barceló, Miquel Navarro Navarro, Mireille Gros, Mitsuo Miura, Modest Cuixart Tàpies, Moisés Blanco, Moisés Villelia, Mónica Fuster Julià, Monica Giron, Mónica Lleó Casanova, Mónica López Montoya, Mónica Roselló Menasanch, Monika Brandmeier, Montserrat Gómez Osuna, Motoe Shiratori Langman, Namiko Prado Araï, Nasdejagi Nja Mahdaqui, Natalia Cacchiarelli, Natalia Granada, Natividad Gutiérrez, Nélida López Martínez, Nelson Domínguez, Nelson Leirner, Nelson Villalobo, Nemesio Antunez, Néstor Quiñonez, Nicholas Woods, Nicolás Lara, Nieves Galiot Martín, Nikias Ribeiro Skapinakis, Norman Mooney, Nunik Sauret, Nuria Gusinyer, O.
Estruga, Ofil Hechevarría, Olabarrieta, Olga Kisseleva, Oliver Johnson, Óscar Gutman, Óscar Lloveras, Óscar Muñoz Ovalle, Oscar Pérez, Óscar Rivas, Óscar Seco Moreno, Osvaldo Matamoros, Otobong Nkanga, Pablo Capote, Pablo Genovés, Pablo Serrano, Pablo Siquier, Pablo Torrealba, Paco Aguilar Aguila, Paco Bernal, Paco Clavel, Paloma Navares, Paolo Laudisa, Pat Andrea, Pat Steir, Paz Errázuriz Korner, Pedro Álvarez Pacheco Castello, Pedro Diego Alvarado, Pedro Friedeberg, Pedro Oliver Parés, Pedro Pablo Oliva, Pedro Portugal, Pedro Proença, Peinado, Pepe Herrera, Pepe Hidalgo, Pere Formiguera Sala, Perla Krauze, Philippa Smith, Pierre Alechinsky, Pietro Sanguineti, Pilar Araña, Pilar Bordes, Pippo Altomare, R. Cárdenes, Rafa Forteza, Rafael Alberti, Rafael Armengol Machi, Rafael Canogar, Rafael Canogar Gómez, Rafael Coronel, Rafael Zarza, Rainer Fetting, Ramón Astray, Ramón Canet Font, Rashid Diab, Raúl Anguiano, Raúl Cordero, Raúl Martínez, Raymundo Orozco, Red Grooms, Regina Silveira, Remigio Valdes De Hoyos, René Azcuy, René De La Nuez Robaina, René Francisco, René Portocarrero, Rey Polo, Ricard Chiang Martín, Ricardo Dávila Wood, Ricardo León, Ricardo Mazal Beja, Ricardo Regazzoni, Ricardo Rodríguez Brey, Ricardo Villasana, Rigoberto Mena, Robert Llimós, Robert Smith, Roberto Cortázar, Roberto Fabelo, Roberto Marfil, Roberto Parodi, Roberto Quevedo, Roberto Sebastián Matta, Roberto Turnbull, Rodolfo Llopiz Cisneros, Rodolfo Morales, Rodolfo Nieto, Rogeiro Ribeiro, Rogelio López Cuenca, Roger Von Gunten, Ronald Morán, Ronaldo De Juan, Rosa Muñoz Tarin, Rosa Muñoz Turin, Rosario Cruz, Rosendo Álvarez Cortés, Roser Bru, Rossella Matamoros Jimenez, Rosslyn Editions, Inc. Royo, Rubén Leyva, Rubén Rodríguez, Rufi Taramona, Rufino De Mingo, Rufino Tamayo, Rui Sanches, Salomón Cohen, Salvador Pérez Bassols, Salvatore Provino, Salvatore Pupillo, Sandra Ceballos, Sandra Ramos, Sandro Chia, Santiago Carbonell, Santiago Rodríguez Olazábal, Santiago Serrano Rueda, Santiago Ydañez Ydañez, Santos Balmori Picazo, Santos Montes Pérez, Saskia Moro, Seamus Farrel, Sergi Aguilar, Sergio Belinchón, Sergio Hernández, Sergio Sanz, Shahram Entekhabi, Shen Yuan, Shin Il Kim, Silvia Grumer, Sol Lewitt, Starn Twins (mike & Doug Starn), Sunol Alvar, Susana Guerrero Sempere, Susana Recio, Susana Sierra, Sylvie Bussières, Tamara Arroyo De La Morena, Tamara Zaitseva, Tatiana Parcero, Teódulo Rómulo, Thomas Jocher, Tomás Esson, Tomás Sánchez, Tomy Ceballos, Toni Catany, Toni Crabb, Torralba, Tulio R. De Sagastizabal, Txema Salvans, Ulises A. Castro, Valerio Adami, Vicenç Viaplana Mula, Vicente Gandía, Vicente Pascual Rodrigo, Vicente Rojo, Víctor Chaca, Victor Guadalajara, Víctor Guadalajara, Víctor Hugo Nuñez, Víctor Mira, Victor Vazquez, Victoria Diehl, Vladimir Cora, Vladimir Vlady Kibalchich, Waldo Díaz Balart, Walter Martin & Paloma Muñoz, Wanda Pimentel De Carvalho, Wayne Thiebaud, Wenzel Ziersch, Wifredo Lam, Willie Mazquez, Wolfgang Berkowski, Xavier Guardans, Xavier Ribas Sorolla, Xifra, Xisco Mensua, Yamandu Canosa, Yolanda Herranz Pascual, Yolanda Onandía, Yovani Bauta, Zaida Del Río, Zoltan, Zush.
Due to our mission is supporting artists to create, we seek funds for their projects in our printmaking studio. Get high quality works by known artists at great prices, and they will thank you for supporting art creation. This item is in the category "Art\Art Prints".
The seller is "moises-valdes-gallery" and is located in this country: US. This item can be shipped to North, South, or Latin America, all countries in Europe, all countries in continental Asia.
Artist: Angel Ricardo Ricardo Rios
Unit of Sale: Single Piece
Signed By: Author
Size: Small
Region of Origin: Mexico
Framing: Unframed
Year of Production: 2004
Item Height: 16 in
Style: Contemporary Art
Features: Hand Tinted, Limited Edition, Numbered
Handmade: Yes
Item Width: 12
Culture: Latin American Art
Time Period Produced: 2000-2009
Image Orientation: Portrait
Signed: Yes
Material: Ink, Matte Paper, Paper
Certificate of Authenticity (COA): Yes
Original/Licensed Reprint: Original
Subject: Figures
Type: Print
COA Issued By: Publisher
Theme: Art, Community Life, Domestic & Family Life
Country/Region of Manufacture: Mexico
Production Technique: Screen Printing