Yorkshire Dales River Pastel Art Luxury Canvas Wall Picture Print Colourful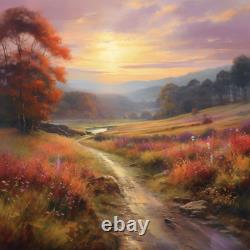 Looking for a stunning piece of art that captures the essence of Yorkshires. Look no further than our exclusive canvas print of. This beautiful canvas print is the perfect addition to any home or office, and is sure to make a statement wherever it's displayed. The high-quality printing process ensures that every detail of the original pastel painting is faithfully reproduced, from the rich, vibrant colors to the intricate brushstrokes that give the piece its unique texture.
This canvas print is only available from us. That's right - you won't find it anywhere else.
So if you want to own a truly unique piece of art that celebrates the beauty and history of Yorkshire, you need to act fast. Order now and you'll receive your canvas print carefully packaged and ready to hang. It's the perfect way to add a touch of class and sophistication to any room, and to show your love for one of the world's greatest Counties. Don't wait - order your exclusive canvas print today!