Tony Moon Three Chords Sex Pistols Punk Jamie Reid- Sniffin Glue Clash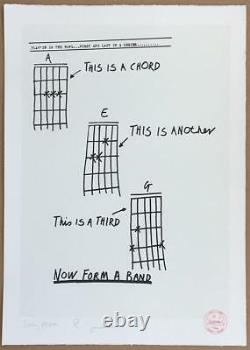 Tony Moon - Three Chords (Now Form A Band). Two colour screen print on 290 gsm decal edged Fabriano Signed edition of 150 70.5 x 50cm. In the winter of 1976 England was in the grip of new cultural phenomena.
Punk, the original sound of the suburbs was skittering across the UK like a dust covered needle on and old LP. Urban kids sick of the old guard of sixties deities like Pink Floyd and Led Zeppelin et al were on the march.
Punk was not just a musical movement; it was a much wider cultural imperative. It was a new empowering regime that said if you want to do something - then go on you can do it. This ethos extended to owning your own record label, running your own clothes shop or club or publishing your own magazine.
From a tower block in a grim corner of South East London, musician Mark Perry, also known as Mark P, started the cult fanzine Sniffin Glue (taken from the Ramones song Now I Wanna Sniff Some Glue). It was soon on sale across London at the coolest stores who were at the vanguard of this new movement - Rock On in Camden and Soho market, Compendium Books in Camden and Rough Trade records in Notting Hill. In another corner of South East London, Tony Moon and his mate P. JAC were starting their own fanzine Sideburns.
Largely dedicated to their shared twin passions, The Stranglers and proto punks Dr. Feelgood, the very first edition was published in January 1977. On page two editor Tony Moon, desperate to fill a blank page, picked up a felt tip pen and instinctively drew what has now become one of the most quoted statements from the punk era. He hurriedly dashed off a diagram with three guitar chords and the slogan Now Form A Band.
Sideburns was a long time ago now, but somehow this singular image survives in peoples imaginations. Its stark simplicity seemed to encapsulate the entire punk ethos and over the years it has been reproduced in books and shown on documentaries. Widely regarded as having derived from the pages of the better known Sniffin Glue, only Jon Savage in his book Englands Dreaming gets it right that it was from Sideburns and was drawn by Tony Moon. Speaking in May 2000 to The Independent in an article about Punk, Mark P said of the three chord diagram that wasnt in Sniffin Glue. Its so mythical now, but it never was. Ive had to put so many people right. Ive had people tell me that Im wrong saying course you did it. Now a published writer and film maker, Moon wanted to make this influential image available and to finally assert his authorship of the piece, so he teamed up with former Royal College of Art graduate Peter Lloyd to produce a definitive limited edition print of one of the most recognised Punk images. Visit our website for a huge selection of original works & prints by the likes of Banksy, Invader, Dran, BAST, Faile, David Shrigley and many many others. Or follow us on facebook / twitter / instagram... The item "Tony Moon Three Chords Sex Pistols Punk Jamie Reid- Sniffin Glue Clash" is in sale since Thursday, March 22, 2018. This item is in the category "Art\Art Prints". The seller is "prescriptionart" and is located in Brighton. This item can be shipped worldwide.
Condition: New
Original/ Repro: Original
Medium: Serigraph & Silkscreen
Self-Representing Artist?: No
Subject: Abstract
Date of Creation: 1977
Type: Modern - Limited Edition
Style: Pop Art
Signed/ Unsigned: Signed
Listed by Self-Representing Artist?

: Signed

Artist: Tony Moon