Salvador Dali Divine Comedy Full Suite Rare Italian Version Complete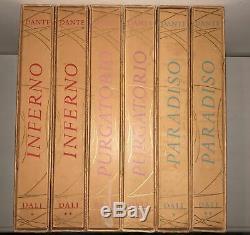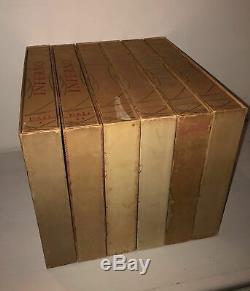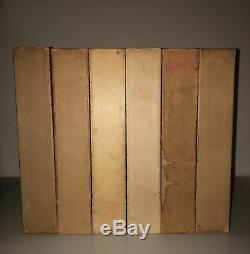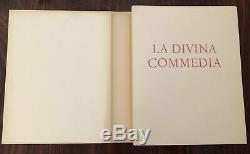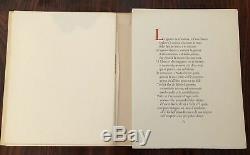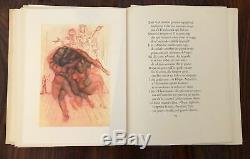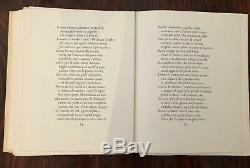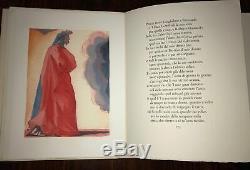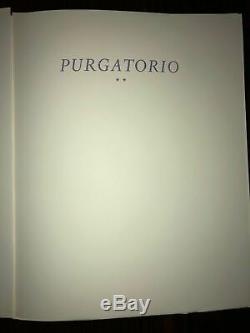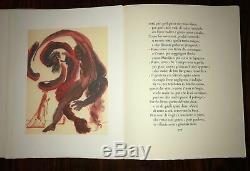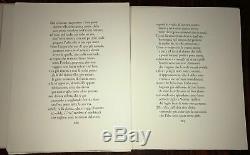 Arti e Scienze, Salani, Verona, 1964 cf. The complete book comprising one hundred woodcuts in colours, 1964, on Rives, in six volumes, with title, text and table of contents, Vol.
I with the justification, copy number 773 from the edition of 2900 there was also an edition of one hundred numbered in Roman numerals and 44 on. , printed by Stamperia Valdonega di Verona and Raymond Jacquet, the full sheets, each with a deckle edge below, in very good condition, loose as published, within paper covered boards with the title, author and artist in red, purple and blue on the spine, with matching slipcases, the slipcase with some minor wear and tear, generally in good condition (book). Salani, Arti e Scienze, Florence, Rome, 1964. Six volumes (35x32 cm) containing Inferno, Purgatorio and Paradiso, each in two volumes, with 100 color illustrations of Dalì, on Magnani paper. In loose notebooks, in hardbound case and case.
Pagination of individual volumes: Inferno (1), 158 pages, 17 illustrations. Hell (2): pages 173-326 with illustrations 18-34. Purgatory (1): 162 pages, and 17 illustrations. Purgatory (2): pages 173-328 and illustrations 18-33.
Paradise (1): 163 pages and 17 illustrations. Paradise (2): pages 173-320 and illustrations 18-33.
Numbered edition of 2900 copies printed in the Valdonega Stamperia. Ex libris in the direction of the dishes.
The birth of this publishing venture: Paris, 1950. In view of the commemoration of the 700th anniversary of the birth of Dante Alighieri, the Italian government commissioned Salvador Dalì to illustrate the Divine Comedy. The artist worked there for almost nine years, giving life to 100 watercolors that in 1960 were exhibited at the Musée Galliera in Paris and transposed in woodcut by the Master Printer Raymond Jacquet. For the perfect reproduction of watercolors 3000 woods are used and up to 35 colors for each table. Adriano Salani Editore, in the person of Mario Salani, designs, together with the publishing house Arti e Scienze of Rome, an edition of the Comedy in six books, two for each song, accompanied by Dalì's plates.
The partners chosen for the purpose are the best offered by the typographical and paper landscape of the time: the Master Typographer Giovanni Mardersteig of the Valdonega Stamperia of Verona, the Cartiere Enrico Magnani of Pescia and the French Paper Mills of Rives. "The prince of the Italian language", Giovanni Nencioni, President of the Accademia della Crusca, is entrusted with the scientific supervision of the Opera. The work is in perfect condition. The item "Salvador Dali Divine Comedy Full Suite Rare Italian Version Complete" is in sale since Wednesday, November 20, 2019.
This item is in the category "Art\Art Prints". The seller is "pillayo7" and is located in Cortijo de Corbado. This item can be shipped worldwide.
Artist: Salvador Dalí