Werner Berges DIVA 2005, Siebdruck, Pop Art Grafik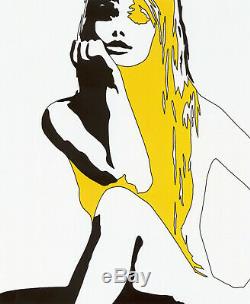 Siebdruck in drei Farben auf Bütten. 51 x 41,5 cm.
Auflage: 300 Exemplare + 30 a. Hand signiert & nummeriert Zustand: perfekt, ohne Mängel. 1960 - 1963 Studium an der Staatlichen Kunstschule Bremen Prof. Schreiter 1963 - 1968 Studium an der Staatlichen Hochschule für Bildende Künste in Berlin Prof. Camaro 1966 - 1968 Mitglied Großgörschen 35, Berlin 1977 Übersiedlung von Berlin nach Schallstadt bei Freiburg/Breisgau.
Werner Berges verstarb im Alter von 75. Rheinfelden 2009 Galerie Meier, Berlin 2008 Euro Gallery, Seoul 66 Porträts, Morat-Institut, Freiburg Jede Menge Leute, DavisKlemmGallery, Frankfurt 2007 Werner Berges und die Pop Art, Pan Kunstforum, Emmerich 2006 Retrospective of Pop-Art -Grafiken, DavisKlemmGallery, Mainz Nord LB, Hannover 2005 Galerie Domberger, Filderstadt 2004 KfW Bankengruppe, Berlin 2003 Galerie Levy, Hamburg 2002 Stadtmuseum Oldenburg, Oldenburg 2001 Kunsthaus Hannover, Hannover 2000 Museum Ratingen, Ratingen Auszeichnungen: 1985 Stipendium der Djerassi-Foundation Woodside , Djerassi-Foundation , Woodside, CA 1981 Regiopreis der Wirtschaft , Basel 1970 Preis der Oldenburgstiftung 1969 Förderpreis des Landes Niedersachen Meisterschüler , Land Niedersachsen , Hannover 1967 Burdapreis für Grafik , Burda Verlag , München Stipendium der Studienstiftung des Deutschen Volkes , Studienstiftung des Deutschen Volkes , Bonn 1965 2. Preis für Malerei , Neues Forum , Bremen. Bitte haben Sie Verständnis dafür, dass die Abbildung aus technischen Gründen Farbabweichungen zum Original aufweisen kann. Bei nummerierten Objekten erhalten Sie ein Exemplar aus der Auflage.
Die Nummerierung kann von der in der Abbildung gezeigten abweichen. Wir versenden in ungebrauchten kartonähnlichen Briefen und rollenähnlichen Kartonagen.
Alle Verpackungen und deren Inhalt, gehen bei uns, der Beschreibung entsprechend zum Versand. Wir übernehmen bei jedem Artikel die Garantie, dass er der Beschreibung entspricht. Sollte sich das Gegenteil herausstellen (durch Gutachten), wird das Blatt selbstverständlich auf unsere Kosten zurückgenommen und der Kaufbetrag erstattet. The item "Werner Berges DIVA 2005, Siebdruck, Pop Art Grafik" is in sale since Tuesday, August 13, 2019. This item is in the category "Antiquitäten & Kunst\Kunst\Kunstdrucke". The seller is "kunsthaus-hannover" and is located in Hannover.
This item can be shipped to all countries in Europe.
Marke: Werner Berges
Technik: Siebdruck in drei Farben auf Bütten
Motiv: Diva
Alter/Originalität: 2005