Victor Vasarely 1908 Pécs / Serigraphie, handsigniert / kleine Auflage Ex 9/30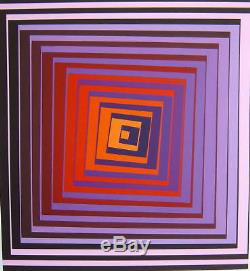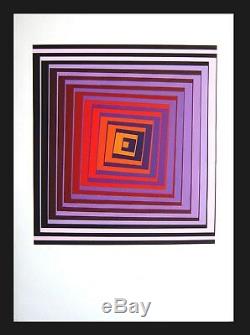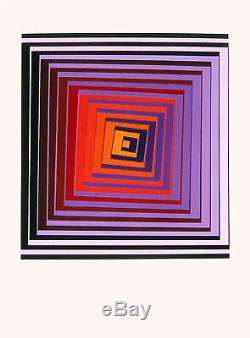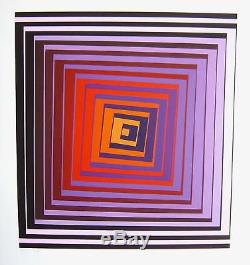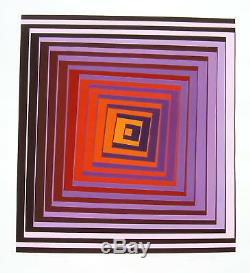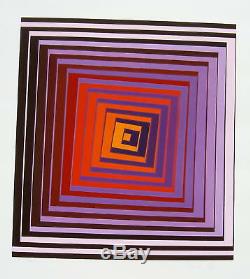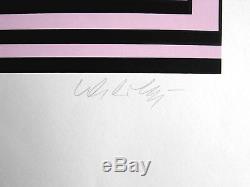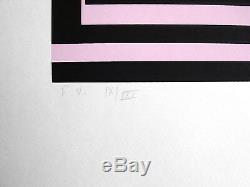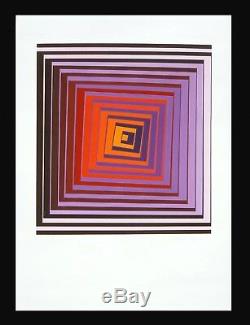 Original Farbserigraphie aus den 70er Jahren. Um1970 / kleine Auflage / Exemplar FV IX / XXX = (9/30). Blatt der Fondation Vasarely / schöne original Grafik, handsigniert. Victor Vasarely 1906 in Pécs (Ungarn). Weitere Fotos unten im Angebot. Signatur: rechts unten handsigniert mit Vasarely. V (Fondation Vasarely) , IX / XXX = 9/30. Material: Farbserigraphie auf festem Papier.
Diese schöne Grafik wurde in den 70-80er Jahren im Kölner Kunsthandel erworben. Gyözö Vásárhelyi wurde 1906 in Pécs in Ungarn geboren.
Ab 1927 besucht er eine private Zeichenschule in Budapest. Im Folgejahr setzt er seine Ausbildung an der "Mühely" dt. "Werkstatt" an der in erster Linie das Gedankengut des Bauhauses vermittelt wird, fort.
1930 übersiedelt er nach Paris und arbeitete vorerst als Grafiker. In dieser Zeit experimentiert Vasarely mit verschiedenen grafischen Mitteln und erforscht ihre optischen und emotionalen Möglichkeiten. Er entwickelt eine eigenständige geometrische Abstraktion, deren Variationen zu optischen Bildmustern mit kinetischen Effekten führen.
In einem Gitterwerk ordnet der Künstler geometrische Formen in leuchtenden Farben so an, dass dabei für das Auge der Eindruck einer fluktuierenden Bewegung entsteht. Vasarely trägt damit wesentlich zur Entstehung der Op-Art bei.
Ab der Mitte der 50er Jahre entwickelt der Künstler in erster Linie Kunst für den öffentlichen Raum. Für die Olympiade in München 1972 entwirft Vasarely Plakatmotive und das offizielle spiralenförmige Logo. 1976 gründet der Künstler die Fondation Vasarely in Aix-en-Provence, mit deren Hilfe 1981 ein Institut für zeitgenössische Formgestaltung und Architektur eingerichtet wurde. 1976 eröffnete das Vasarely-Museum in seiner Geburtsstadt Pécs, ein zweites folgte 1987 in Schloß Zichy / Budapest.
Victor Vasarely starb 1997 in Paris. Die Fotos sind ein wenig undeutlich, das Original ist wohl schöner! The item "Victor Vasarely 1908 Pécs / Serigraphie, handsigniert / kleine Auflage Ex 9/30" is in sale since Saturday, July 7, 2018. This item is in the category "Antiquitäten & Kunst\Kunst\Kunstdrucke".
The seller is "**zeitreise**" and is located in Herne. This item can be shipped worldwide.
Alter/Originalität: um1970
Künstler: Victor Vasarely
Marke: Fondation Vasarely Gordes
Zeitraum: um1970
Technik: Farbserigraphie
Drucktyp: Handgefertigt
Verkäufertyp: Kunstgalerie
Original/Reproduktion: Original der Zeit
Motiv: Geometrische Komposition