PINK FLOYD Waters Gilmour 45 LP MANY OUT OF PRINT LIMITED EDITIONS RARE SET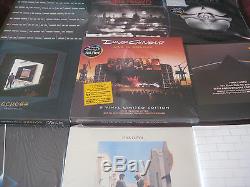 Pink Floyd - 25 TITLES ALL FACTORY SEALED - MANY TREMENDOUSLY RARE LONG OUT OF PRINT TITLES & A TOTAL OF 45 PIECES OF VINYL WITHIN THE COLLECTION. All except one Factory sealed - New - Never Played - THIS IS COMPLETE SET AND OUR LAST SET FOREVER.
PINK FLOYD - ECHOES 4 LP BOX SET - LONG OUT OF PRINT - TREMENDOUSLY RARE SET NOW AND SELLS ALONE IN THE 100'S OF DOLLARS IN MINT CONDITION. THIS IS OUR ONLY TITLE THAT IS NOT SEALED. PINK FLOYD'S 30TH ANNIVERSARY LIMITED EDITION - DARK SIDE OF THE MOON - 180 GRAM. Plus THE 1995 DARK SIDE OF THE MOON COLLECTORS TREMENDOUSLY RARE EMI CAPITOL 1993 PICTURE DISC LIMITED EDITION VINYL PRESSING. THIS PRESSING IS DECADES OUT OF PRINT AND PRICELESS.
ROGER WATERS - RADIO K. OUT OF PRINT - COLUMBIA RECORDS FC40795. Roger Waters Roger Waters The Wall Soundtrack 180 GRAM LIMITED EDITION 3LP SET. On Numbered Limited Edition Picture Disc 2 LP SET.
David Gilmour Live At Pompeii 180 GRAM LIMITED EDITION 4LP Box Set. David Gilmour Arnold Layne LIMITED EDITION 10 Vinyl.
David Gilmour Rattle That Lock 180 GRAM LP & 16 PAGE PHOTOBOOK. PINK FLOYD - THE WALL 2 LP SET.
PINK FLOYD - THE WALL SINGLES COLLECTION 3 SEVEN INCH SINGLES BOX SET. Pink Floyd The Division Bell 180 GRAM LIMITED 20TH ANNIVERSARY EDITION 2LP SET. PINK FLOYD - A SAUCERFUL OF SECRETS - RARE STEREO PRESSING - OUT OF PRINT.
PINK FLOYD - THE PIPER AT THE GATES OF DAWN - RARE U. VINYL PRESSING - OUT OF PRINT. PINK FLOYD - WISH YOU WERE HERE - WITH PICTURE DISC - OUT OF PRINT SINCE 1995 FROM CAPITOL RECORDS - THIS PRESSING IS PRICELESS. Pink Floyd Wish You Were Here 180 GRAM LIMITED EDITION ORIGINAL PACKAGING LP - POSTCARDS & POSTER.
Pink Floyd ANIMALS 180 GRAM ANALOG LIMITED EDITION LP Remastered from the Original Analogue Tapes by James Guthrie, Joel Plante and Bernie Grundman! Pressed on Heavyweight 180g Vinyl! Pink Floyd Meddle 180 GRAM ANALOG LIMITED EDITION LP Remastered from the Original Analogue Tapes by James Guthrie, Joel Plante and Bernie Grundman!
Pink Floyd The Final Cut 180 GRAM LIMITED EDITION AUDIOPHILE LP Remastered from the Original Analogue Tapes by James Guthrie, Joel Plante and Bernie Grundman! PINK FLOYD - MORE SOUNDTRACK IN A PICTURE DISC - OUT OF PRINT. PINK FLOYD - LONDON 1966-67 - Gatefold LP on white colored heavyweight vinyl with printed inner sleeve. Rare performances of "Interstellar Overdrive" and Nick's Boogie. LP is a gatefold with a picture inner sleeve.
Pink Floyd The Endless River 180 gram limited edition 2 LP SET. THE ORB Featuring David Gilmour Metallic Spheres 180 GRAM LIMITED EDITION 2LP SET. SYD BARRETT AN INTRODUCTION TO SYD BARRETT DOUBLE OUT OF PRINT LP SET 2010 RELEASE FROM EMI/CAPITOL RECORDS. Collectors Note : This limited edition pressing is now out of print & gone from the last distributor that had any of these pressing left within their inventory. This means that this specific title is "Here Today but For Sure Gone Tomorrow Forever". So Don't Miss Out on adding this to your collection. & TYPE IN LPVALUE OR FOR PINK FLOYD TITLES USE THE CODE PFLOYD INTO THE SEARCH FIELD WITHIN OUR STORES SECTION AS YOUR PERSONAL CODE AND ALL INDIVIDUAL TITLES + INFORMATION WILL APPEAR. High definition analog vinyl pressing for superior fidelity. The nicest thing you can do for your stylus and ears. The ultimate record the way music was meant to be heard. You should never pass up the opportunity to upgrade your collection. They're each very limited in their pressings and disappear with extraordinary quickness from the vinyl market. This causes prices to skyrocket because once they are gone, they are gone forever! Don't second-guess yourself with this chance to upgrade your collection because before you know it, the opportunity will have passed forever. PINK FLOYD'S 30TH ANNIVERSARY DARK SIDE OF THE MOON - 30th ANNIVERSARY EDITION by EMI with expensive Gatefold Cover - 180 gram Virgin Vinyl with 3 Posters (including new Anniversary Poster) - stickers - all original packaging. SEEMS TO HAVE A SMALL SEAM SPLIT AT THE TOP OF THE GATEFOLD JACKET UNDERNAETH THE PLASTIC WRAP. PLUS THE 1993 CAPITOL RECORDS LIMITED PICTURE DISC EDITION & JACKET. By all industry standards, The Dark Side Of The Moon is a phenomenon. Known for its complex instrumental textures, the album firmly established Pink Floyd as one of the most innovative bands in rock history. Vinyl (in its original packaging) will include an extra 30th anniversary poster by Storm Thorgerson. Originally released in 1973, is one of those albums that is discovered anew by each generation of rock listeners. This complex, often psychedelic music works very wel because PINK FLOYD doesnt rush anything; the songs are mainly slow and mid-temp, with attention paid throughout to musical texture and mood. This is probably PINK FLOYDs best known work. PINK FLOYD were incredibly talented pioneers and innovators who were a ground-breaking act who were many, many years ahead of their time capable of producing the most devastatingly original and brilliant music ever created.
Great Gig in the Sky, The 6. Any Colour You Like 9. Remastered by Doug Sax from the Original Analog Tapes at The Mastering Lab! 180g Vinyl Double LP Features New Artwork!
Pressed at Quality Record Pressings! The Division Bell' was the last studio album to be released by the band: David Gilmour, Nick Mason and Richard Wright.
Some bands turn into shorthand for a certain sound or style, and Pink Floyd belongs among that elite group. The very name connotes something specific: an elastic, echoing, mind-bending sound that evokes the chasms of space.
Pink Floyd grounded that limitless sound with exacting explorations of mundane matters of ego, mind, memory, and heart, touching upon madness, alienation, narcissism, and society on their concept albums of the'70s. Of these concept albums, Dark Side of the Moon resonated strongest, earning new audiences year after year, decade after a decade, and its longevity makes sense.
That 1973 concept album distilled the wild psychedelic of their early years -- that brief, heady period when they were fronted by Syd Barrett-- into a slow, sculpted, widescreen epic masterminded by Roger Waters, the bassist who was the band's de facto leader in the'70s. Waters fueled the band's golden years, conceiving such epics as Wish You Were Here and The Wall, but the band survived his departure in the'80s, with guitarist David Gilmour stepping to forefront on A Momentary Lapse of Reason and The Division Bell. Throughout the years, drummer Nick Mason and keyboardist Rick Wright appeared in some capacity, and the band's sonic signature was always evident: a wide, expansive sound that was instantly recognizable as their own yet was adopted by all manner of bands, from guitar-worshipping metal-heads to freaky, hippie, ambient electronic duos.
Unlike almost any of their peers, Pink Floyd played to both sides of the aisle: they were rooted in the blues but their heart belonged to the future, a dichotomy that made them a quintessentially modern 20th century band. The Division Bell wasn't just a return to Pink Floyd's earlier, more free-flowing psych-rock songcraft. Released 20 years ago on March 28, 1994, the project also marked Floyd's last truly collaborative moment, as remaining members David Gilmour, Nick Mason and Rick Wright rekindled something that appeared lost with Roger Waters' departure. "Populated by long keyboard moments, these echoing, sustained guitar chords and segmented song-cycles effortlessly flowing into one another, "The Division Bell" plays like a long, slow exhale after the Waters-era novelization of Floyd on albums like "The Wall" and "The Final Cut.
If the songs often weren't as narratively strong, the music itself portrayed a renewed sense of musical camaraderie... Named for the bell that rings in the houses of Parliament to summon members for a vote, The Division Bell started in an appropriate enough manner: With Gilmour, Mason and Wright sorting through ideas in loose jam sessions. Eventually, they had as many as 65 total pieces of music, before winnowing it down first to 25 or so, and then down to a final running order.
I think that was the best idea, Wright told MTV at the time. In the beginning, we went and played for two weeks. So, it really was music straight from Dave, myself and Nick. Lyrics were added through a collaborative effort with Gilmours new wife Polly Samson, a published author, while the production team included long-time Floyd collaborators like producer Bob Ezrin and saxophonist Dick Perry. The multi-platinum The Division Bell topped the charts in both the U.
A huge world-wide tour followed, as did a Grammy award for the instrumental Marooned. Ultimateclassicrock, March 28, 2014 Features: 180g Vinyl Double LP Remastered by Doug Sax from the Original Analog Tapes at The Mastering Lab! Double LP Album features full-length tracks for the first time!
(Original Edit was to fit on a Single LP) Pressed at Quality Record Pressings New Artwork designed by Hipgnosis/StormStudios (2014) Gatefold Sleeve Remastered (2011) Includes limited time 320Kbps Digital download Selections: 1. What Do You Want From Me 3. A Great Day For Freedom 6. Wearing the Inside Out 7. Coming Back to Life 9. PINK FLOYD'S 1995 PICTURE DISC WITH JACKET OF - WISH YOU WERE HERE - CBS SONY 30AP 1875-01 - LONG OUT OF PRINT VINYL MASTERPIECE. Shine on You Crazy Diamond, Pts. Featured in Michael Fremer's Heavy Rotation in the March 2012 Issue of Stereophile! Pressed on 180 Gram Heavyweight Vinyl, Cut by Doug Sax & Remastered by James Guthrie! Includes all Original Packaging, Postcard, Free 320kbps MP3 Album Download and Exclusive Poster!
Rolling Stone 500 Greatest Albums of All Time - Rated 211/500! Rolling Stone 500 Greatest Songs of All Time - "Wish You Were Here" - Rated 324/500!
On its release in 1975 Wish You Were here topped the album charts in both the UK and the US. Reflecting the band's thoughts of the time on the music business, and exploring themes of absence, Wish You Were Here contains the classic cut Shine On You Crazy Diamond, a tribute to founder member Syd Barrett. Since 1967 Pink Floyd have produced one of the most outstanding and enduring catalogues in the history of recorded music.
The albums have been painstakingly remastered by James Guthrie (co-producer of The Wall). Artwork designed by long-time artwork collaborator Storm Thorgerson.
As a part of their Why Pink Floyd? Campaign, EMI has chosen to release three titles on collector's vinyl LP (throughout the year 2011 and into early 2012) including The Dark Side of the Moon, Wish You Were Here, and The Wall.
Look for more details to come! "The Floyd's follow-up to The Dark Side of the Moon was another essay on everyday lunacy, dominated by the liquid-rock suite "Shine On You Crazy Diamond, a poignant allusion to errant ex-member Syd Barrett. "Have a Cigar" is a searing blast at the music biz, with the classic line, Which one's Pink? The re-mastering to vinyl is better than any standard CD. All of the stark, electronic instrumentation has depth and is not compromised by excessive production. The acoustic guitar and the vocals of Waters and Gilmour have organic warmth.
The black shrink wrap covering and hard record sleeve are just some of the packaging fe. Robbie Gerson, 4.5 Stars!! While Pink Floyd were recording this elegy [Wish You Were Here] for burned-out ex-frontman Syd Barrett, he mysteriously appeared in the studio in such bad shape that, at first, nobody in the band recognized him.
He stood up and said,'Right, when do I put my guitar on? And of course, he didnt have a guitar with him. And we said,'Sorry, Syd, the guitars all done. " - Rolling Stone Features: 180 Gram Heavyweight Vinyl Original Packaging with Black Protective Resealable Outer Sleeve Includes postcard, free 320kbps mp3 album download IF STILL AVAILABLE and exclusive poster 2011"Why Pink Floyd? Collector's Edition LP Cut by Doug Sax at The Mastering Lab Remastered by James Guthrie Artwork by Storm Thorgerson Selections: 1. Shine On You Crazy Diamond (Part One) (1-5) 2. Welcome To The Machine 3. Wish You Were Here 5. Shine On You Crazy Diamond (Part Two) 6-9. Heavyweight 180 Gram Double Vinyl! Mastered by Doug Sax at The Mastering Lab! Gatefold Jacket with 11" X 11" 16-Page Booklet with Previously Unseen Photos from This 1993 Session! Rolling Stone 2015 Readers' Poll: The 10 Best Jam Bands: Pink Floyd Rated 9th!
The Endless River is the fifteenth studio album by British progressive rock band Pink Floyd. Produced by David Gilmour, Youth, Andy Jackson and Phil Manzanera, the album was released by Parlophone and Columbia Records respectively in Friday-release countries on November 7, 2014. The album is the band's first since the death of keyboardist and founding member Richard Wright, who appears posthumously, and the third by the Gilmour-led Pink Floyd after Roger Waters' departure from the band in 1985. Described as a "swan song" for Wright, The Endless River mostly comprises instrumental, ambient music.
It is based on twenty hours of unreleased material the band wrote, recorded and produced with Wright during sessions for Pink Floyd's previous studio album The Division Bell in 1994. The album was finished aboard the Astoria, Gilmour's houseboat recording studio, in 2013 and 2014 and at David's other home studio called Medina Studios in Hove, Brighton, England. The Endless River has as its starting point the music that came from the 1993 Division Bell sessions.
We listened to over 20 hours of the three of us playing together and selected the music we wanted to work on for the new album. Over the last year we've added new parts, re-recorded others and generally harnessed studio technology to make a 21st century Pink Floyd album. With Rick gone, and with him the chance of ever doing it again, it feels right that these revisited and reworked tracks should be made available as part of our repertoire. The Endless River is a tribute to Rick.
I think this record is a good way of recognizing a lot of what he does and how his playing was at the heart of the Pink Floyd sound. Listening back to the sessions, it really brought home to me what a special player he was. The Endless River is mainly a four-sided instrumental album with one song, Louder Than Words, which includes new lyrics by Polly Samson.
The track listing runs across four sides, to invoke the album listening experience. The concept for the powerful imagery of a man rowing on a river of clouds was created by Ahmed Emad Eldin, an 18-year-old Egyptian digital artist. Ahmeds image was then re-created by Stylorouge, award-winning UK design agency.
Pink Floyds album artwork, mostly created by Storm Thorgerson of Hipgnosis, is as legendary as the bands music. With Storms passing in 2013, the task of finding an image that carried on Storms legacy passed to Aubrey Po Powell, Storms original partner in Hipgnosis. When we saw Ahmeds image it had an instant Floydian resonance. Its enigmatic and open to interpretation, and is the cover that works so well for The Endless River. Mastered by Doug Sax at The Mastering Lab, California.
Hipgnosis sleeve design - Ahmed Emad Eldin photo. 11" x 11" 16-Page Photo/Credit Booklet including previously unseen photographs from the 1993 sessions. Limited Time download card for the entire album. The Lost Art of Conversation.
PINK FLOYD'S MORE SOUNDTRACK IN A PICTURE DISC ONLY. THE SOUNDTRACK FROM THE FILM MORE - remastered reissue of 1969 soundtrack album. PINK FLOYD'S THE WALL SINGLES COLLECTION BOX SET. The singles box includes three 45 singles each with picture sleeves, a poster and a 45 adaptor.
Numbered, limited edition box set includes vinyl remasters on three 7 singles. 500 Greatest Songs of All Time: "Another Brick In The Wall Part 2" rated 384/500, "Comfortably Numb" rated 321/500! One of the most acclaimed concept albums of all time. From 1979 is renowned as Roger Waters' rock opera dealing with abandonment and personal isolation.
Adapted for cinema by Alan Parker featuring Bob Geldof in the lead role, and featuring the unique artwork of Gerald Scarfe the album also yielded the hit single Another Brick In The Wall Part 2. This deluxe box set includes three 7-inch singles, the first vinyl remasters from Pink Floyd's. Contains "Another Brick in the Wall" / "One of My Turns, " "Comfortably Numb" / "Hey You, " and "Run Like Hell" / Don't Leave Me Now. Waters' attack on teachers who practice'dark sarcasm in the classroom' was inspired by his own schoolmasters.
The school I was at - they were really like that, Waters said. [All] they had to offer was their own bitterness and cynicism. There are three versions of'Another Brick' In The Wall,' but'Part 2' was the hit.
Roger Waters based one of the saddest drug songs ever written ['Comfortably Numb'] on a sleazy Philadelphia doctor who injected him with tranquilizers before a gig when he was suffering from hepatitis. That was the longest two hours of my life,' Waters said. Trying to do a show when you can hardly lift your arm. Another Brick In The Wall (Part 2)(1994 Remaster).
One Of My Turns (1994 Remaster). Run Like Hell (1994 Remaster).
Dont Leave Me Now (1994 Remaster). PINK FLOYD'S THE WALL - 180 GRAM 2 LP SET - Remastered by James Guthrie with artwork by Storm Thorgerson.
Is renowned as Roger Waters' Rock Opera, dealing with abandonment and personal isolation. Featuring the unique artwork of Gerald Scarfe, the album also yielded the U. 1 hit Another Brick In The Wall Pt.
2 and was subsequently adapted for cinema by Alan Parker featuring Bob Geldof in the lead role. This release is part of a larger.
The releases are designed to appeal to a wide cross section of their fans, with music to excite first time listeners, while super-deluxe box sets will cater to dedicated fans, allowing them to immerse themselves in multi-disc sets, containing alternate takes, unreleased tracks, restored live concert screen films and a live recording of the legendary. The Dark Side Of The Moon. Performance at Wembley in 1974. A series of different listening experiences have been specially created for this release: in addition to remastered CDs called Discovery and the Immersion CD/DVD/Blu-Ray/memorabilia box sets will be a series of Experience Editions - coupling one classic album with a further disc of related content from that album to offer a deeper listening experience.
Storm Thorgerson, the band's longtime Art Director, has overseen the visual design, including new booklets for all the CDs, new artwork for the box sets and menus for the DV content. Respected photographer Jill Furmanovsky has edited books of original unseen photographs. Pink Floyd collaborators James Guthrie in the U. And Andy Jackson in the U. Have been in charge of digital remastering to the highest audio and audiovisual standards.
Another Brick in the Wall, Pt. The Happiest Days of Our Lives.
Don't Leave Me Now. Is There Anybody Out There? Bring the Boys Back Home.
The Show Must Go On. PINK FLOYD'S - A SAUCERFUL OF SECRETS. A SAUCERFUL OF SECRETS - Pink Floyd's second album A Saucerful of Secrets, released in July of 1968. Sadly, A Saucerful of Secrets was hugely ignored in the US but made it to #9 in the UK upon release in 1968. Sales notwithstanding, the album is a classic!
Let There Be More Light. Set the Controls for the Heart of the Sun. PINK FLOYD - THE PIPER AT THE GATES OF DAWN. Take Up Thy Stethoscope and Walk. Pink Floyd Meddle 180 GRAM ANALOG LIMITED EDITION LP.
Remastered from the Original Analogue Tapes by James Guthrie, Joel Plante and Bernie Grundman! From 1971, Meddle is widely regarded as Pink Floyd's first concept album, and regarded by the band as the album that most prepared them for The Dark Side Of The Moon. The album features the seminal 23-minute track, Echoes, that fills a complete side of the vinyl release. Remastered from the Original Analogue Tapes by James Guthrie, Joel Plante and Bernie Grundman.
Original UK release date: November 1971. Remastered & reissued on 180g vinyl, the 1977 album Animals has been a rare find on vinyl for quite some time. Rolling Stone has rated the album 13/50 on their 50 Greatest Prog Rock Albums of All Time.
Loosely based on George Orwell's book Animal Farm, Roger Waters' third consecutive concept album replaced Orwell's critique of Stalinism with a scathing indictment of capitalist oppression during Margaret Thatcher's term as England's prime minister. The band derided by punks like the Sex Pistols as epitomizing "dinosaur" rock performed thick, rich protest music here, with some of David Gilmour's most glorious blues playing amid bleak panoramas of processed sound.
Consisting of three long tracks bookended by the gently acoustic "Pigs on a Wing, " Animals was the first album Pink Floyd recorded in its own studio. Remastered from the Original Analogue Tapes by James Guthrie, Joel Plante and Bernie Grundman Gatefold Jacket. Original UK release date: January 1977. Pigs On The Wing 1.
Pigs On the Wing 2. Pink Floyd The Final Cut 180 GRAM LIMITED EDITION AUDIOPHILE LP. The 12th studio album from Pink Floyd was originally released in 1983 and was the last album to include founding member Roger Waters.
Waters originally planned the album as a soundtrack for the 1982 film Pink Floyd - The Wall. However, he re-wrote it as a concept album exploring the betrayal of his father who died serving in World War II.
Original UK release date: March 1983. Andy Newmark, drums on "Two Suns". When the Tigers Broke Free. Get Your Filthy Hands Off My Desert. Two Suns In the Sunset.
PINK FLOYD ECHOES BOX SET. Included here are 26 cuts With one track not on the CD release "When Tigers Broke Free" 2 hours and 12 minutes On this best of compilation of timeless music that looks at each stage of the bands long career. What more can be said?
Special Note: The picture that we show here is an Open Box Set for your preview of the 4-LP sleeves inside and each LP is housed not only in an outer sleeve, but also an inside protective sleeve. This Box comes totally sealed in shrink wrap for you Collectors who might never open this hold onto it for three to five years and have it be worth hundreds of dollars once totally out of print. The Happiest Days Of Our Lives.
Another Brick In The Wall (Part 2). The Great Gig In The Sky. Set The Controls For The Heart Of The Sun.
Shine On You Crazy Diamond (Parts 1-7). When The Tigers Broke Free.
SEALED Solo LPS/SETS by Pink Floyd Members - Factory sealed - New - Never Played. On par with the post-Waters Floyd stuff.
The subject matter is pretty dated as there is no longer a Cold War and we don't live under the threat of nuclear annihilation from the Russians, but some of the other stuff is timely (The Powers that Be especially). Tracks include : Radio Waves - Who Needs Information - Me Or Him - Powers That We Be. Tide Is Turning (After Live Aid).
On Numbered Limited Edition Picture Disc 2LP SET. Sounded the alarm about a society increasingly and unthinkingly in thrall to its television screens. Speaks to our present moment in ways that could scarcely have been anticipated two decades ago. "I'm remembering the record from [over] 20 years ago, that most of what I had to say then sadly still pertains today and is maybe even more relevant to our predicament as people in 2015 even than it was in 1992, " says Roger Waters.
An unblinking look at an entertainment-obsessed society. Addresses issues that have only grown in complexity and urgency over the past two decades. In 2015, television is just one option in an endless array of distractions available to us anytime, anywhere, courtesy of our laptops, tablets and smartphones. With eyes glued to our screens, the dilemmas and injustices of the real world can easily recede from view. Feature a new remastered stereo mix completed by longtime Roger Waters / Pink Floyd collaborator and co-producer, James Guthrie. Produced by Roger Waters and Patrick Leonard. Is a musically ambitious work featuring a stellar lineup of musicians. Guitar legend Jeff Beck figures prominently on the album, bringing his signature virtuosity to eight songs.
Guest vocalists include Don Henley ("It's a Miracle"), Rita Coolidge ("Amused to Death") and soul singer P. Arnold ("Perfect Sense" Parts I and II). Also contributing were Waters' longtime collaborators, guitarist Andy Fairweather Low and drummer Graham Broad ; percussionist Luis Conte ; and Pat Leonard , who played keyboards on several tracks. The album also reunited Waters with composer/arranger Michael Kamen , who supervised orchestral arrangements for. Waters' semi-autographical concept album with Pink Floyd.
Kamen arranged and conducted the National Philharmonic Orchestra Limited's contributions to the songs "Too Much Rope" and What God Wants, Part III. The Ballad of Bill Hubbard.
What God Wants, Part I. The Bravery of Being Out of Range. Late Home Tonight, Part I. Late Home Tonight, Part II.
What God Wants, Part II. What God Wants, Part III. The Pink Floyd album comes to life with the film by Roger Waters and Sean Evans.
This 3LP set contains live music from the film. A tour-de-force of rock & roll stagecraft anchored in powerful message of peace and compassion, "The Wall Live" became a must-see concert event for music fans everywhere. It played to over 4.5 million people at more than 200 shows across four continents, making it the most successful worldwide tour by a solo artist in history. Roger Waters The Wall also serves as a companion piece to the feature film, Roger Waters The Wall.
Directed by Sean Evans and Roger Waters, Roger Waters The Wall fuses the epic and the personal to operate on three levels simultaneously: as an immersive concert experience; as a road movie of Waters' reckoning with the impact of war on his own family; and as a stirring antiwar film about the human cost of conflict. The film premiered in a "one night only" global cinema presentation in September, drawing hundreds of thousands of fans worldwide.
Originally released in 1979, Pink Floyd's "The Wall" was the band's first narrative concept album. Waters drew from personal history to chart the life and times of the central character, a mentally disintegrating rock star haunted by the wartime death of the father he never knew. The album's thematic content and musical mastery, exemplified by worldwide chart-topper "Another Brick in the Wall (Part 2)" and radio staples "Run Like Hell" and "Comfortably Numb, " struck a chord with audiences worldwide. Pressed at MPO in France. Selections: LP 1 Side 1. Another Brick In the Wall, Pt. The Ballad of Jean Charles de Menezes. What Shall We Do Now?
Metallic Spheres is a collaboration between David Gilmour, the voice and guitar of Pink Floyd, and The Orb, the renowned British ambient/house collective. Together, they created a two-part sonic mixture in a range of styles combining David's unique guitars and The Orb's crafted sound manipulations.
David's 2009 jam session with ambient collective The Orb has grown into an album, Metallic Spheres. David's contribution to the charity song Chicago, in aid of Gary McKinnon, sparked the interest of producer Youth (Martin Glover), who remixed the track and invited David to his studio for a recording session. With additional contributions from Orb co-founder Alex Paterson, the album took shape from 2009 into 2010, eventually becoming Metallic Spheres, to be released by The Orb featuring David Gilmour. Metallic Spheres is designed to be heard in two parts'Metallic Side' (24'48"), and'Spheres Side' (25'09") each'side' containing five movements. The album features David's guitar and lap steel guitar, plus some of his vocals from Chicago; Alex Paterson contributes sound manipulation, keyboards and turntables, while Youth adds bass and keyboards and handles the production.
Features: Double 180g Vinyl LP Gatefold jacket Includes webpass to enable digital download of all tracks plus bonus ambient mix, one time only. Hymns To The Sun 3. Hiding In Plain View 5. Hymns To The Sun (Reprise) 3. Bold Knife Trophy Total playing time, 49:57.
DAVID GILMOUR - LIVE AT GDANSK - 180 GRAM 5 LP BOX SET WITH MP3 DOWNLOAD - The last concert on David Gilmour's 2006 Summer Tour was held in front of 50,000 people at the shipyards in Gdansk, Poland, at the request of the Gdansk Foundation. The creation of the Solidarity movement, after Lech Walesa's sacking from the shipyards, led directly to the dismantling of the Soviet Union's control over the former Easter Bloc, and the reunification of Germany.
The concert was the only occasion on which David performed the tour material with an orchestra, using the 40-strong string section of the Polish Baltic Philharmonic Orchestra, conducted by Zbigniew Preisner, who was responsible for the. For vinyl junkies, the entire concert is available in a box of LPs: 8 sides are the concert, including. While the fifth disc holds two. Barn Jams, On The Turning Away.
Live from Venice, and two songs from the. Musicians: David Gilmour Richard Wright, Pink Floyd's keyboard Phil Manzanera, Roxy Music guitarist Guy Pratt, bass player with Roxy Music and Pink Floyd Jon Carin, keyboards and longtime player with Pink Floyd Steve Di Stanislao - drums, recently played with Crosby and Nash Dick Parry - saxophone and longtime Pink Floyd collaborator Features: FIVE LP'S. DOUBLE SIDED POSTER 20 PAGE BOOK. TWO previously unreleased Barn Jams Selections: Disc 1 & 2 1.
Red Sky at Night 9. Then I Close My Eyes 11. A Pocketful of Stones 14.
Where We Start Disc 3 & 4 1. Shine On You Crazy Diamond 2. Wish You Were Here 7.
A Great Day For Freedom 8. Double Gatefold Housed In Heavyweight Slipcase! Live At Pompeii is the project from David Gilmour, and follows his critically acclaimed studio album Rattle That Lock from September of 2015. Live at Pompeii is available in multiple formats: a 2 CD live album, a standard DVD and Blu-Ray concert film, a Deluxe Boxset including the 2 CD live album and 1 Blu-Ray of the entire live concert with bonus content on 2nd Blu-ray disc, and a special 4 LP Vinyl package. Following the release of Rattle That Lock in 2015, David Gilmour set out to play a series of concerts in historic venues across the world. On July 7th and 8th, 2016, David Gilmour performed two spectacular shows at the legendary Pompeii Amphitheatre in the shadow of Mount Vesuvius, 45 years after he first played there for Adrian Mabens classic film Pink Floyd Live at Pompeii. The concerts were the first-ever rock performances played to an audience in the ancient Roman amphitheatre, which was built in 90 BC and entombed in ash when Vesuvius erupted in AD 79. David Gilmour is the only performer to play to an audience in the arena since the time of the gladiators, almost 2,000 years ago. Speaking about the Pompeii shows David Gilmour commented. It's a magical place and coming back and seeing the stage and the arena was quite overwhelming. It's a place of ghosts... The album includes songs from throughout David's career including the title tracks of his two most recent No. 1 solo albums: Rattle That Lock and On An Island.
Also included are other solo and Pink Floyd classics such as Wish You Were Here,'Comfortably Numb,' and One Of These Days, the only song that was also performed by the band in 1971. Both concerts also saw extraordinary performances of The Great Gig In The Sky from The Dark Side Of The Moon, which David rarely plays as a solo artist.
Selections: LP 1 Side A. What Do You Want From Me. Shine On You Crazy Diamond (Parts 1-5). Time/Breathe (In The Air) (Reprise). David Gilmour's Fourth Studio Album on 180g Vinyl!
Mastered by James Guthrie and Joel Plante! Mastered at das Boot/Bernie Grundman Mastering! Rattle That Lock contains 10 tracks composed by David Gilmour, including five with lyrics by author Polly Samson, two by David himself and three instrumentals.
The album was produced by David, with long-time collaborator Phil Manzanera. The striking cover imagery was realized under the aegis of Creative Director Aubrey Powell of Hipgnosis, with design by The Creative Corporation. The front sleeve landscape photograph was by Rupert Truman of StormStudios, with album booklet and sleeve photography by Kevin Westenberg, while Polly Samson has contributed the studio session shots found in the booklets in the various formats.
Heavyweight vinyl LP was mastered by James Guthrie and Joel Plante at das boot/Bernie Grundman Mastering. Gatefold sleeve, photo inner bags, full color labels, download card. Full size 16-page photo/lyric booklet including artist and album session photographs. Features: 180g Vinyl LP Mastered by James Guthrie and Joel Plante Mastered at das Boot/Bernie Grundman Mastering Gatefold jacket Photo inner bags Full-color labels Limited time download card 16-page photo/lyric booklet Selections: Side A: 1. A Boat Lies Waiting 5.
Dancing Right In Front of Me Side B: 6. Girl In the Yellow Dress 9.
Pink Floyd guitarist/vocalist David Gilmour, with help from David Bowie and Richard Wright, pays tribute the band's founder, Syd Barrett, who passed away in July of 2006. The first song is the early Floyd tune Arnold Layne, a song the band recorded before Gilmour joined. It was the first single released by Pink Floyd, shortly after landing a recording contract with EMI.
The song was written by Syd Barrett, Pink Floyd's co-founder and original front man. Although not included on the band's debut album The Piper at the Gates of Dawn, many consider Arnold Layne to be one of the finest psychedelic pop songs of its time. The second cover is a solo Barrett track Dark Globe, originally from Syd's The Madcap Laughs album (which was produced by Gilmour). Musicians: David Gilmour, lead vocals & guitar David Bowie, lead vocals Richard Wright, vocals & keyboards Phill Manzanera, guitar & vocals Guy Pratt, bass & vocals Jon Carin, keyboards, steel guitar & vocals Steve Di Stanislao, drums & vocals Selections: 1. Dark Globe Track 1 Side A & Track 1 Side AA recorded live at the Royal Albert Hall, London, May 2006 Track 2 Side AA recorded live in Europe, Summer 2006. SYD BARRETT AN INTRODUCTION TO SYD BARRETT DOUBLE LP SET 2010 RELEASE FROM EMI/CAPITOL RECORDS. Vinyl double album compilation from 2010. Syd Barrett was a master of the psychedelic scene, especially with some mindbending creepiness and unsettling imagery.
He did, after all, found the band Pink Floyd. Although his tenure with them was short lived, he continued to grow as an artist.
This 2010 compilation double album on vinyl showcases his twisted genius for the length of his career. No previous Barrett compliation included his work with Pink Floyd until now. It also includes some of his later solo work. In total, you get 18 tracks that include greats such as "Terrapin, " "See Emily Play, " "Here I Go, " "Octopus, " "Effervescing Elephant" and much more. We could talk all day about what tracks should or should not have been included in this collection which is intended to introduce someone to the masterful work of a sick genius. I like many others need no introduction as I'm a die-hard Pink Floyd and Syd Barrett fan. I got this package to see what the new mixes would sound like especially the version of Matilda Mother included here. The first thing I did was rip the entire contents to the hard drive to examine the wave file format in audio editing software. Thankfully none of these songs have been brickwalled. It has not fallen prey to the loudness war. This was surprising and very good news. The 2010 mixes sound excellent and I'm picking up detail I haven't heard since the original vinyl releases or the 2007 remaster of Piper at the Gates of Dawn.
Bravo to all involved in the creation of this sonic masterpiece. One can only hope Gilmour will go back and remaster the rest of Syd's materiel using the same standards and release it soon. TRACKS ARE - PINK FLOYD - ARNOLD LAYNE - SEE EMILY PLAY - APPLES & ORANGES - MATILDA MOTHER - CHAPTER 24 & BIKE.
BARRETT TRACKS ARE : TERRAPIN - LOVE YOU - DARK GLOBE - HERE I GO - OCTOPUS - SHE TOOK A LONG COOL LOOK - IF IT'S IN YOU - BABY LEMONAD - DOMINOES - GIGOLO AUNT - EFFERVESCINNG ELEPHANT & BOB DYLAN BLUES. OUT OF PRINT PRODUCT is IRREPLACEABLE and therefore NOT RETURNABLE. International Buyers are responsible for their countrys. Mymusicfix has been told we have the best collection of Rare, Out of Print music collectibles on E-Bay. Artistrotation vinylrotation OOPSCORPIO DOLP PFLOYD.
The item "PINK FLOYD Waters Gilmour 45 LP MANY OUT OF PRINT LIMITED EDITIONS RARE SET" is in sale since Friday, April 23, 2010. This item is in the category "Music\Records". The seller is "mymusicfix2" and is located in Lake Forest, California. This item can be shipped worldwide.
Genre: Rock
Style: British Invasion
Record Size: 12"
Duration: LP
Special Attributes: 180 - 220 gram
Record Label: VARIOUS LABELS
Release Year: VARIOUS YEARS
Speed: 33 RPM