Paul Flora Rabe auf gelber Kugel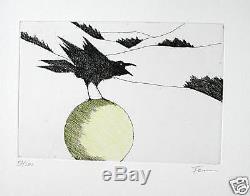 Paul Flora "Rabe auf gelber Kugel", Radierung, rechts unten mit Bleistift handsigniert, links unten num. 57/200; Blattgröße: 39 x 44,5cm, Bildgröße: 15 x 22 cm, ungerahmt. 1922 in Glurns im Vinschgau, Südtirol geboren, 2009 in Innsbruck verstorben. 1927 Übersiedlung nach Innsbruck 1942 bis 1944 in München 1944 Kriegsdienst in Italien, Ungarn, der Slowakei und Niederösterreich 1945 seit 1945 in Innsbruck als freischaffender Zeichner 1948 Mitglied des Art-Club, Wien 1953 Beginn der Zusammenarbeit mit dem Diogenes Verlag 1957 Beginn der 14 Jahre währenden Mitarbeit an der Wochenzeitschrift Die Zeit, Hamburg Einzelausstellungen (eine Auswahl): 1945 Zofingia, Bern; 1947 Neue Galerie in der Grünangergasse, Wien; 1949 Galerie Gurlitt, München; 1952 Museum Ferdinandeum, Innsbruck; 1956 Secession, Wien; 1957 Galerie Würthle, Wien; 1958 Overbeck-Gesellschaft, Lübeck und Este Gallery, New York; 1959 Kunsthalle Bremen; 1963 Wilhelm Busch Museum, Hannover; 1964 Galerie im Taxispalais, Innsbruck; 1966 Österr. Kulturinstitute Warschau und New York, Biennale Venedig; 1969 Aargauer Kunsthaus, Aarau. 1971 Galleria il Milione, Mailand; 1972 Suermondt Museum, Aachen, Neue Galerie der Stadt Linz, Kulturhaus Graz; 1973 Niederreihnisches Freilichtmuseum, Grefrath; 1974 Folkwang Museum, Essen, und Galerie Günter Franke, München; 1976 Musée de Grenoble; 1979 Museum Nymwegen, Holland; 1983 Städtisches Museum, Freiburg in Breisgau; 1984 Stadtmuseum Kiel, Museum für Kunst und Gewerbe, Hamburg, 1985 Württembergischer Kunstverein, Stuttgart, Stadtmuseum München, Rupertinum Salzburg; 1986 Schloß Maretsch, Bozen, Kunstmuseum Winterthur; 1987 Kunstverein Ulm; 1988 Paul A.
Weber Haus, Ratzeburg, 1989 Albrecht Dürer Haus, Nürnberg; 1990 Kärntner Landesgalerie, Klagenfurt; 1992 Stadtmuseum Oldenburg. Stellen Sie Ihre Artikel schnell und bequem ein und verwalten Sie Ihre aktiven Angebote. The item "Paul Flora Rabe auf gelber Kugel" is in sale since Wednesday, August 19, 2009. This item is in the category "Antiquitäten & Kunst\Kunst\Kunstdrucke".
The seller is "theatergalerie" and is located in Wien. This item can be shipped worldwide.