Original Rare Leroy Neiman Painting Joe Frazier 1971 Champion Def Muhammad Ali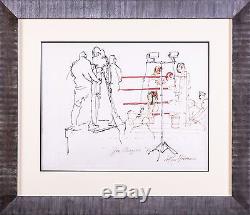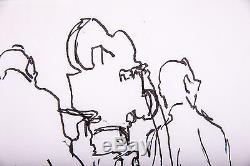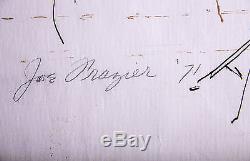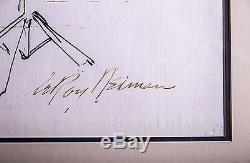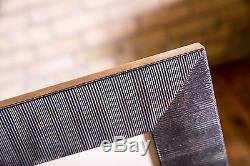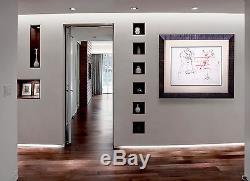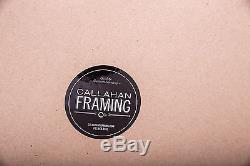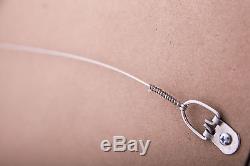 Happens 6 times a year with dates and pieces picked at random. Original Rare Leroy Neiman Painting Joe Frazier 1971 Champion Def Muhammad Ali. Artist: LeRoy Neiman, American (1921 - 2012) Title: Joe Frazier Medium: Original Ink Marker, Watercolor, and Felt Pen on Fine Fabriano Watercolor Paper Size: 18" x 24" Framed: 29 1/2" x 35" Condition: This piece was well maintained and kept out of the sun. It remains in original condition with no damage to speak of. Signed Leroy Neiman and Joe Frazier 1971.
Authenticity: Includes original Franklin Bowles tag Item #NEIM25266c Invoice 804615. The piece is an original painting created by the #1 Sports artist in the world, Leroy Neiman.
They used to say it was an event, unless Leroy Neiman was there. This pieces is not only signed by Neiman, but also signed by Joe Frazier. Boxing was always Neiman's "sweet spot". Born and raised in lower to middle class family Neiman spent a lot of time at the numerous St Paul boxing events painting and drawing the local talent.
We have recently framed it sparing no costs in gorgeous handmade wood frame. In 1966 Ali refused to be inducted into the US Army. As a result he was stripped of his fighting license from 1966 on. In 1970 Joe Frazier meets with president Nixon and asks Nixon to give Ali his license back. He tells Nixon he would like to beat him "Ali" up for him. Frazier certainly followed through with his words.
In 1971 Joe Frazier defeated Muhammad Ali in the "The Fight of the Century". In this painting you can see the press reporting on Frazier as he trains.
Ali and Frazier's first fight, held at the Garden on March 8, 1971, was nicknamed the "Fight of the Century", due to the tremendous excitement surrounding a bout between two undefeated fighters, each with a legitimate claim as heavyweight champions. Veteran boxing writer John Condon called it "the greatest event I've ever worked on in my life". The bout was broadcast to 35 foreign countries; promoters granted 760 press passes. Adding to the atmosphere were the considerable pre-fight theatrics and name calling.
Ali portrayed Frazier as a "dumb tool of the white establishment". "Frazier is too ugly to be champ", Ali said. Frazier is too dumb to be champ. " Ali also frequently called Frazier an "Uncle Tom.
Dave Wolf, who worked in Frazier's camp, recalled that, Ali was saying'the only people rooting for Joe Frazier are white people in suits, Alabama sheriffs, and members of the Ku Klux Klan. I'm fighting for the little man in the ghetto. Joe was sitting there, smashing his fist into the palm of his hand, saying,'What the fuck does he know about the ghetto?
Ali began training at a farm near Reading, Pennsylvania, in 1971 and, finding the country setting to his liking, sought to develop a real training camp in the countryside. He found a five-acre site on a Pennsylvania country road in the village of Deer Lake, Pennsylvania. On this site, Ali carved out what was to become his training camp, the camp where he lived and trained for all the many fights he had from 1972 on to the end of his career in the 1980s. The Monday night fight lived up to its billing. In a preview of their two other fights, a crouching, bobbing and weaving Frazier constantly pressured Ali, getting hit regularly by Ali jabs and combinations, but relentlessly attacking and scoring repeatedly, especially to Ali's body.
The fight was even in the early rounds, but Ali was taking more punishment than ever in his career. On several occasions in the early rounds he played to the crowd and shook his head "no" after he was hit. In the later roundsin what was the first appearance of the "rope-a-dope strategy"Ali leaned against the ropes and absorbed punishment from Frazier, hoping to tire him. In the 11th round, Frazier connected with a left hook that wobbled Ali, but because it appeared that Ali might be clowning as he staggered backwards across the ring, Frazier hesitated to press his advantage, fearing an Ali counter-attack. In the final round, Frazier knocked Ali down with a vicious left hook, which referee Arthur Mercante said was as hard as a man can be hit.
Ali was back on his feet in three seconds. [39] Nevertheless, Ali lost by unanimous decision, his first professional defeat. Leroy Neiman is considered the most famous American leisure artist of all time. His unique and easily identifiable technique coupled with his easy to relate to subject matter has made him a success with both art critics and art collectors. LeRoy Neiman (June 8, 1921 - June 20, 2012) Born and raised in St.
Paul, Minnesota, Neiman studied briefly in St. Paul before moving to Chicago to study at the School of Art Institute of Chicago where he also taught for 10 years before moving to New York City in 1962. Leroy Neiman is probably the most popular painter and print maker in America.
He is one of the few artists of the 20th century whose name has become a household word in millions of American homes. Best known for his brilliantly colored, stunningly energetic images of sporting events and leisure activities, LeRoy Neiman is probably the most popular living artist in the United States. It stands alone, without any real comparison.
It is an art which has become controversial because Neiman has broken the barriers of many of the most hallowed assumptions of modern art history and contemporary criticism. It is an art that is loved by millions of people throughout America and around the world. Through his art, Neiman has explored contemporary leisure, all the pastimes and places people enjoy, and particularly the world of sports and the world of entertainment. LeRoy Neiman's style explodes with the dramatic intensity of Abstract Expressionist brush strokes, strokes that pick out action that is strikingly accurate. This unique combination is so appealing that Neiman has brought art into the lives of more people than most post-war American artists put together.
Since 1970 LeRoy Neiman has published hundreds of limited edition serigraphs which have become as much sought after as the prints of Miro, Chagall and Picasso. He has travelled and exhibited worldwide, from Moscow to Tokyo to Caracas. He has many published books, and has been honored with many awards for his art. His work is in the permanent collections of many museums including the Baltimore Museum of Fine Art, and Minneapolis Institute of Arts, the Museo de Bellas Artes in Caracas, the Hermitage in Leningrad, and the Art Institute of Chicago. Would you like to see what this piece looks like in your home?
Simply send us a photo of the area you are looking to fill. We will take the photo and have our piece placed in the space to help you in your decision making. All items are guaranteed 100% authentic.
All items are listed with the utmost accuracy. No photos are altered and all photography of our items is produced by the managing director of the Minneapolis Photo Center.
Created for the discerning art collector, Modern Artifact buys and sells some of the worlds most collected and demanded fine art, antiques and memorabilia. Modern Artifacts is headquartered in Minneapolis, MN and has clients all over the world.
We establish relationships with many art dealers, collectors and the artists themselves, to ensure our clients are offered an extensive collection to choose from. With many fine works of art by top names such as Robert Wyland, Steve Kaufman and Bert Stern, you are sure to find a piece that catches your eye and inspires your imagination. Shop with us online today and experience one of the industrys leading art, antique and memorabilia retailers for yourself. High Quality, Unique Works of Art Modern Artifact specializes in high quality, unique works of art. We have the hard to find pieces that you have been searching for and some of the eclectic ones you didnt even know about but just have to have.
We understand the needs of our clients and seek out the pieces they want to add to their collection. Whether you are new to art collecting and are just building your collection, or if you have been collecting fine art and antique for years, Modern Artifact has you covered. All of our art is photoed by a professional photographer and not enhanced using photoshop. Some instances we will photoshop a piece into a home scene, however while doing that photoshop is not used to brighten or alter the individual piece.
All photos are taken in natural light. If you would like to see a piece upload into an area of your home please send us a photo and we will gladly do that free of charge. We would be glad to answer any questions you may have. We have in house professional packaging for your valuables to ensure that they show up in tact and ready to enjoy. Every piece of ours is guaranteed authentic and comes with a gallery certificate of authenticity along with all original paperwork.
Our experts have authenticated tens of thousands of pieces so rest assured you are getting authentic art. All pieces go through rigorous background checks and testing to ensure their authenticity.
Would you like us to frame any of our art to match your current framing or home? We have our own in house framing. We can show you examples and even photoshop the frame onto the piece to give you an idea of what it will look like.
Feel free to message us on any framing ideas. The item "Original Rare Leroy Neiman Painting Joe Frazier 1971 Champion Def Muhammad Ali" is in sale since Sunday, February 12, 2017. This item is in the category "Art\Art Prints". The seller is "modern_artifact" and is located in Minneapolis, Minnesota.
This item can be shipped worldwide.
Listed By: Dealer or Reseller
Signed: Signed
Size Type/Largest Dimension: Large (Greater than 30in.)
Date of Creation: 1970-1989