KEITH HARING Untitled (1985) FRAMED SIGNED FINE ART POSTCARD RARE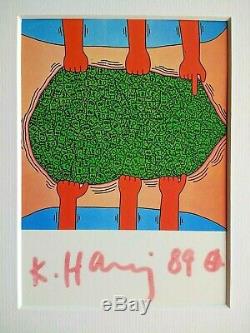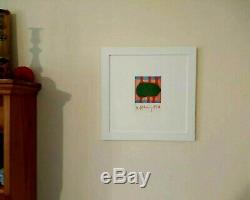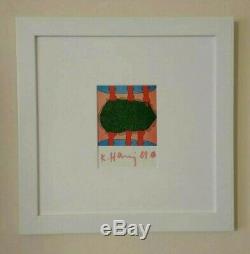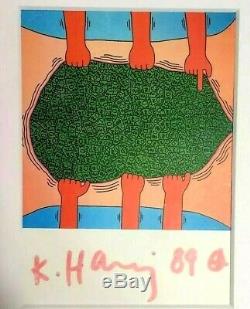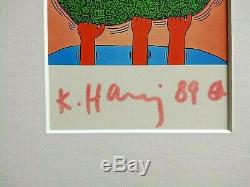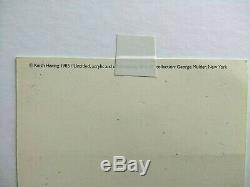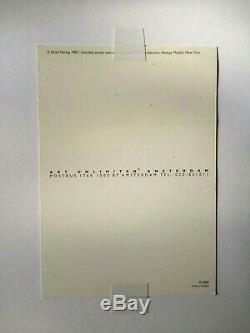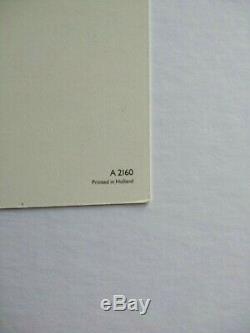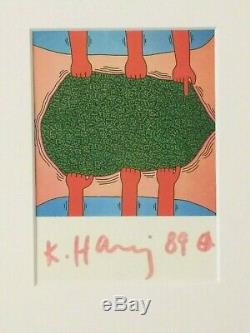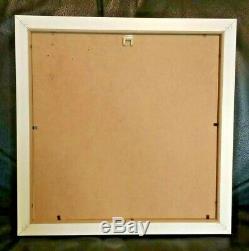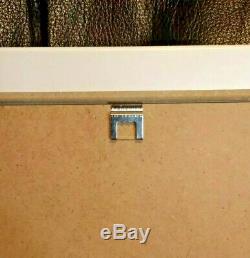 KEITH HARING - Untitled (1985). FRAMED & SIGNED ART POSTCARD - RARE. Hand signed + dated'89' by Keith Haring with red felt-tip pen. Fine art postcard approximately 15 x 10.5cm. Wooden frame with diagonal cut mount and glass.
The image in the postcard has been taken from an original acrylic and oil on canvas painting, from a New York collection. Keith Allen Haring (May 4, 1958 February 16, 1990) was an American artist whose pop art and graffiti-like work grew out of the New York City street culture of the 1980s. Haring's work grew to popularity from his spontaneous drawings in New York City subways chalk outlines of figures, dogs, and other stylized images-on blank black advertising-space backgrounds.
After public recognition he created larger scale works, such as colorful murals, many of them commissioned. His imagery has "become a widely recognized visual language".
His later work often addressed political and societal themes especially homosexuality and AIDS through his own iconography. Haring first received public attention with his graffiti art in subways where he created white chalk drawings on a black, unused advertisement backboard in the stations. He considered the subways to be his "laboratory", a place where he could experiment and create his artwork and saw the black advertisement paper as a free space and the perfect place to draw. Starting in 1980, he organized exhibitions at Club 57, a gallery which hosted performances and exhibitions from emerging artists, which were filmed by the photographer Tseng Kwong Chi. Around this time, "The Radiant Baby", a crawling infant with emitting rays of light, became his most recognized symbol. He used it as his tag to sign his work while a subway artist. His images were primarily composed of solid, bold lines with vibrant colors. Symbols and images, such as barking dogs, a flying saucers, and large hearts, became common in his work and iconography.
The writings of Burroughs and Gysin inspired his work with lettering and words. In 1980, he created headlines from word juxtaposition and attached hundreds to lamp-posts around Manhattan. These included phrases like REAGAN SLAIN BY HERO COP, and POPE KILLED FOR FREED HOSTAGE. That same year, in one of his earliest public projects, Haring changed an ad that showed a female embracing a males legs by blacking out letters so that it read hardon instead of Chardon. He later used other forms of commercial material to spread his work and messages.
This included mass producing buttons and magnets to hand out and working on top of subway ads. In 1981, he sketched his first chalk drawings on black paper and painted plastic, metal, and found objects. He would work on any medium that could provide a proper context for his work and/or could hold the marks. Due to this, his works spread quickly and Haring became much more recognizable. He used his imagery during the last years of his life to speak about his illness and to generate activism and awareness about AIDS.
By 1982, Haring had established friendships with fellow emerging artists Futura 2000, Kenny Scharf, Madonna, Yoko Ono, Boy George, Roy Lichtenstein and Jean-Michel Basquiat. He created more than 50 public works between 1982 and 1989 in dozens of cities around the world.
He often used lines to show energy and movement. One of his early works, Untitled, in 1982 depicts two figures with a radiant heart-love motif, which critics have interpreted as a boldness in homosexual love and a significant cultural statement. His "Crack is Wack" mural, created in 1986, is visible from New York's FDR Drive.
It was originally considered as vandalism by the New York Police Department and Haring was arrested. But after local media outlets picked up the story, Haring was released on a lesser charge.
While in jail Haring's original work was vandalized. He later made an updated version of the mural on the same wall. This mural is an example of Harings use of consciousness raising rather than consumerism, Crack is Wack rather than Coke is it.
In 1989, he criticized the avoidance of social issues such as AIDS through a piece called "Rebel with Many Causes" that revolves around a theme of "hear no evil, see no evil, speak no evil". Throughout the 1980s Haring made art for a variety of sources, nightclubs and discotheques, such as the Palladium in Manhattan, MTV set decorations, a backdrop for a 1985 hunger-relief concert in Philadelphia, walls on the Lower East Side and props for various dance works. His works also included murals for the Musee dArt Contemporain de Bordeaux, the Childrens hospital in Washington and the Necker Childrens hospital in Paris. Haring had an undeniable sexual quality to much of his work. Much of his work includes sexual allusions that turned into social activism.
He achieved this by using sexual images to advocate for safe-sex and AIDS awareness. Haring got to know Andy Warhol, who was the theme of several of his pieces, including "Andy Mouse". His friendship with Warhol would prove to be a decisive element in his eventual success.
In December 2007, an area of the American Textile Building in the TriBeCa neighborhood of New York City was discovered to contain a painting of Haring's from 1979. Please look at my other items including rare modern and contemporary art and design pieces. The item "KEITH HARING Untitled (1985) FRAMED SIGNED FINE ART POSTCARD RARE" is in sale since Thursday, May 16, 2019. This item is in the category "Art\Art Prints". The seller is "ashbinx74" and is located in Bruton.
This item can be shipped worldwide.
Artist: Keith Haring
Listed By: Dealer or Reseller
Features: Framed