Joan Miro Series 1 Red Green Lithograph limited Mint Painting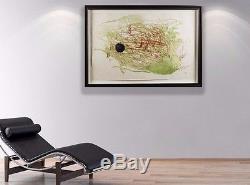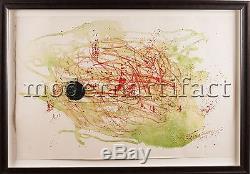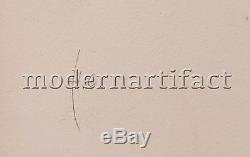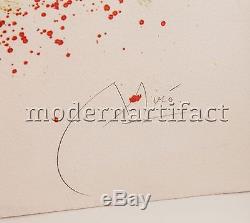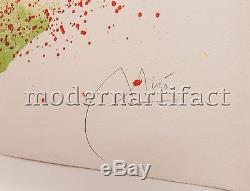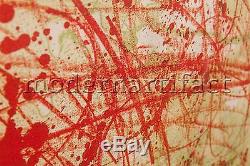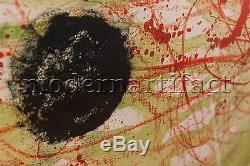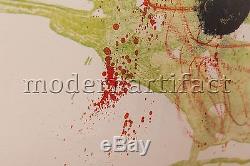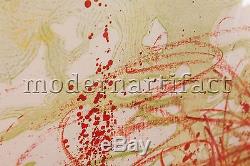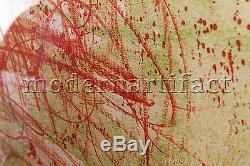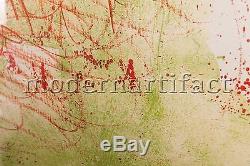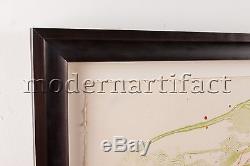 Happens 6 times a year with dates and pieces picked at random. Joan Miro Series 1 Red Green Lithograph limited Mint Painting. Title: Series 1, Red and Green.
Size: 26" x 39.5". Edition: Limited HC hors commerce impression aside from the edition of 75. Condition: Perfect condition with no flaws to speak of. First to meet our bottom line will take this gorgeous piece home.
Although he started his experiments in lithography already in 1929, it was only after the Second World War that Joan Miro further developed this printmaking technique. Mourlot Studios was one of the most renowned Parisian printmaking ateliers at the time, dedicated to high quality prints, a place where the original art poster was born. A close friendship Miro formed with Fernand Mourlot had effect on his production of prints, and theish artist made over one thousand different editions of lithographs over the years. The piece on offer here is entitled Series 1, Red and Green, indicating its affiliation with a particular series made in 1961 in Mourlot Studios. Mostly abstract, which reflects the artists free thinking of the era, this particular lithograph explores contrasting colors depicted with free forms, against a clear, achromatic focal point.
Texture of the paper supports the coloristic experiment, while the piece remains one of the rare testimonies of Miros experimental genius. Closely connected to the original Surrealist movement, Joan Miro is today revered for his unique pictorial vocabulary and invigorating originality of style in both painting and printmaking. Born in Spain in 1893 in a family of craftsmen, Miro was almost predetermined to become an artist. His initial artistic education in Barcelona preceded the big move to Paris the 26-year-old artist undertook in 1919.
Life in Paris was difficult for artists at the time, but these hard times might have influenced the young painters imagination and pushed him towards invention of the visual language known to wide audiences today. It was in Paris, where Joan Miro befriended Andre Breton, hence the association with the Surrealist group, even though the artist never officially joined the group. He had staged a solo exhibition in the early 1920s and had participated in group displays, but success seemed to have omitted Miro in his early years. Nevertheless, his career started to flourish during the 1930s, introducing a prolific period that lasted until his death.
Playful, filled with movement and color, linear, even childish are some of the first associations arisen from contemplation of Joan Miros art. Right from the beginning, he abandoned the traditions of painting and started creating works driven with pure energy and fire of the soul, all executed with great care and perfectionism. A pioneer of Automatism, Miro explored the depths of human mind through art, using color and form to describe imaginary shapes he invented.
His compositions are delicate, elaborate and filled with various abstract and associative elements, featuring motifs such as eyes, insectoid creatures, birds, and the frail moon. Miros poetic style is highly recognizable and praised throughout the history of art and it had notable influence on Abstract Expressionism and the Color Field Painting in the post-war period. Joan Miro died in Palma de Mallorca, Spain in 1983. Would you like to see what this piece looks like in your home? Simply send us a photo of the area you are looking to fill.
We will take the photo and have our piece placed in the space to help you in your decision making. All items are guaranteed 100% authentic. All items are listed with the utmost accuracy. No photos are altered and all photography of our items is produced by the managing director of the Minneapolis Photo Center. Created for the discerning art collector, Modern Artifact buys and sells some of the worlds most collected and demanded fine art, antiques and memorabilia. Modern Artifacts is headquartered in Minneapolis, MN and has clients all over the world.
We establish relationships with many art dealers, collectors and the artists themselves, to ensure our clients are offered an extensive collection to choose from. With many fine works of art by top names such as Robert Wyland, Steve Kaufman and Bert Stern, you are sure to find a piece that catches your eye and inspires your imagination. Shop with us online today and experience one of the industrys leading art, antique and memorabilia retailers for yourself. High Quality, Unique Works of Art Modern Artifact specializes in high quality, unique works of art.
We have the hard to find pieces that you have been searching for and some of the eclectic ones you didnt even know about but just have to have. We understand the needs of our clients and seek out the pieces they want to add to their collection. Whether you are new to art collecting and are just building your collection, or if you have been collecting fine art and antique for years, Modern Artifact has you covered.
All of our art is photoed by a professional photographer and not enhanced using photoshop. Some instances we will photoshop a piece into a home scene, however while doing that photoshop is not used to brighten or alter the individual piece. All photos are taken in natural light. If you would like to see a piece upload into an area of your home please send us a photo and we will gladly do that free of charge. We would be glad to answer any questions you may have.
We have in house professional packaging for your valuables to ensure that they show up in tact and ready to enjoy. Every piece of ours is guaranteed authentic and comes with a gallery certificate of authenticity along with all original paperwork. Our experts have authenticated tens of thousands of pieces so rest assured you are getting authentic art. All pieces go through rigorous background checks and testing to ensure their authenticity. Would you like us to frame any of our art to match your current framing or home?
We have our own in house framing. We can show you examples and even photoshop the frame onto the piece to give you an idea of what it will look like. Feel free to message us on any framing ideas. The item "Joan Miro Series 1 Red Green Lithograph limited Mint Painting" is in sale since Thursday, June 09, 2016.
This item is in the category "Art\Art Prints". The seller is "modern_artifact" and is located in Minneapolis, Minnesota.
This item can be shipped worldwide.
Signed: Signed
Print Type: Serigraph & Silkscreen